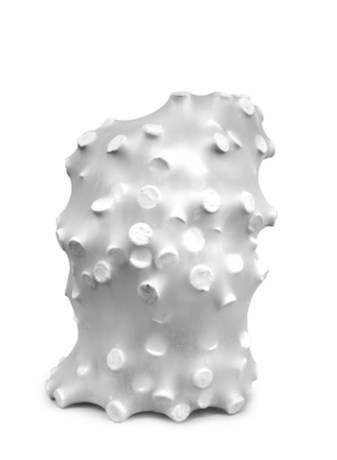 Exhibitions
MCKAY OTTO: EVER WIDE OPEN EVER
McKay Otto
Trans-Dimensional artist, McKay Otto, opens a solo exhibition at The Red Arrow Gallery on September 9, 2017. ever wide open ever includes surface and 3d light box glow paintings, sculpture, and a dark room installation. A reception with the artist is from 6-8PM, in conjunction with the East Side Art Stumble.
Using nylon and acrylic, as well as phosphorescent paint and pieces of cork, McKay Otto is a mixed-media artist who's figured out a formula for creating sculptures of paintings. The fictional space of the canvas that we often see filled with images of things is instead home to a complex overlapping of subtly diverse strata. What might appear as plastic resin over a painted background is, in fact, a careful layering of nylon stretched over corks that have been painted different colors and cut into various lengths. Hiding beneath the translucent skin of the artworks, they are constellations that create hills and valleys in the paintings' surfaces as some press into their filmy coverings while others retreat from them.
McKay Otto's work has to do with the value of looking. By manipulating the surface of the work, Otto pushes the nylon, the three-dimensionality of his artwork, and time into the foreground. These pieces demand your patience. The longer you spend quietly exploring their misty surfaces, the more you see – and the further your mind unwinds. You'll notice how the different drips of paint vary from surface to surface or how the different patterns of monochrome, and cork repeat with slight variations from artwork to artwork. Absent of any single focal point to be found in their radial and diffuse expansions, their implied centers are nowhere and everywhere
McKay Otto began his 27-year studio practice at the Glassell School of Art in 1989 after receiving his BBA from The University of Texas at Austin. He later had the great privilege of knowing and being mentored by renowned contemporary minimalist painter, Agnes Martin where he set out on a lifetime pursuit to free two-dimensional painting.
Otto's work is included in public and private collections and he has exhibited extensively in exhibitions both nationally and internationally. ever wide open ever marks his first show with The Red Arrow Gallery.
image: ever know ever, 2017, acrylic on mixed media, 9 x 9 x 6 inches