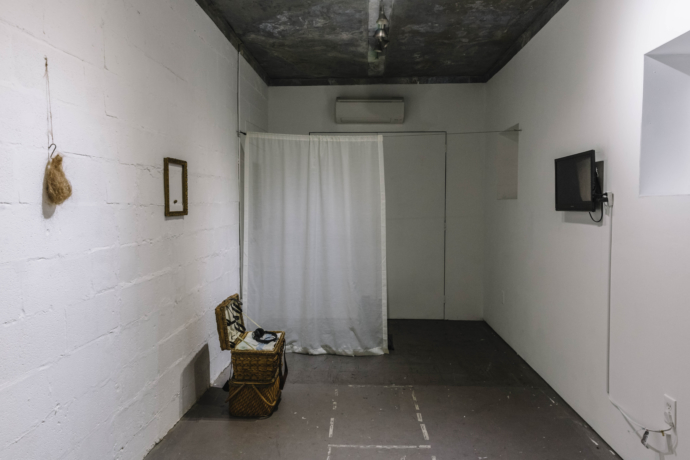 Exhibitions
MCKAY HOUSE & UTAM MOSES: ​WHAT WAS WHEN
McKay House, Utam Moses
mild climate is excited to announce What Was When, a collaborative series of improvisations by McKay House and Utam Moses.

"Again, and,"
"Maybe again, like this,"
"Again,"
"There's something you missed,"
"Remaining, like this,"
Collected here are movements and sounds of a slight uncanny nature working to reinvestigate and enliven empty and strange playgrounds, places out of time. Collected here are subtle and gross relics.
---
Over and Over
a series of improvisations

Friday, September 7th - 7:30 pm
Tennessee Women's Theater Project presents: Tennessee Women's Works Dance Night
Z. Alexander Looby Theater - 2301 Rosa L Parks Blvd

Ticketing info: https://www.brownpapertickets.com/event/3603842

i forget
a durational performance

Saturday, September 8th - 6-6:30 pm
In conjunction with First Saturday reception for What Was When
Outside of mild climate / in front of The Packing Plant - 507 Hagan St

---
McKay House was born in Chattanooga, TN. She received her Bachelor's in Dance from the University of Alabama in 2016. While studying she performed in works by Rebecca Salzer, Sarah M. Barry, and Natosha Washington. She was also involved in collaborations with Anthony Braxton in his premiere of Pinetop Aerial Music dance + music systems. In August of 2016, McKay performed original work at the Edinburgh Fringe Festival with a group from the University. She has attended Trisha Brown Dance Company Winter Intensive, Salt Dance Festival, Seattle Festival of Dance Improvisation, and Nashville Somatic Movement Intensive. McKay has studied under Joe Goode, Andrew Marcus, Molly Heller, Janice Meaden, and Laurel Jenkins. She is currently living and working in Nashville, TN where she is teaching and demonstrating for the Nashville Contact Improvisation organization and creating site-specific dance films.
Utam Moses is a dancer, teacher, and visual/performance artist. She is fascinated by the intersection of the geographic and the psychological, the breaking down, the imaginative and the untold. She completed her Master's in Performance Studies at NYU. She has performed with Body Research/Karl Frost, EchoTheater Suitcase and The Doors Project NYC, and presented work at ODC and Earthdance, among others. She has been an artist/curator at Subterranean Arthouse and currently enjoys teaching contact improvisation and making collaborative performance interventions and assemblages.