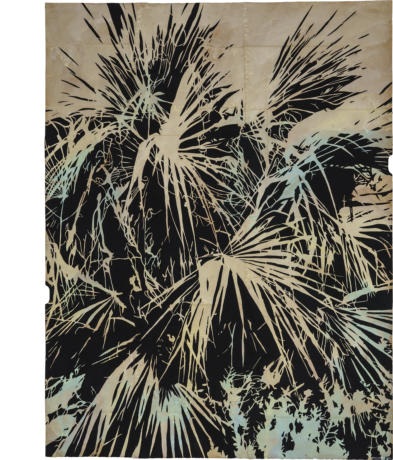 Exhibitions
MAYSEY CRADDOCK
Maysey Craddock
A small exhibition of new paintings by Maysey Craddock comes to David Lusk Gallery Nashville in late March. Best known for her gouache paintings of ephemeral landscapes, Craddock examines growth and decay along Southern shorelines in relation to space and time.
Beginning with photographs, Craddock documents the in-between spaces and transient moments in nature, specifically Alabama coastlines' active ruin and reinvention. Though conceptually concerned with humankind's destruction of the shore, Craddock's formal interest lies in abstraction. She breaks down her photographs to their integral lines and color, paying special attention to the empty spaces. After parsing out the unnecessary elements, she uses gouache to layer intricate branches, reeds, grasses, and leaves onto sewn-together paper bags, creating visual explorations of these evolving, ever-changing coastlines.
With conversations and evidence of climate change top of mind, Craddock's conceptual works remind us of the shore's beauty, as well as its fragile existence and ultimate disappearance. Seams across the compositions serve as both functional and formal elements: silk holding the piece together double as representations of the geological processes that man has a hand in controlling.
Maysey Craddock was born in 1971 in Memphis, TN, and currently lives and maintains a studio there. She received an MFA from Maine College of Art, Portland, ME, and a BA in Sculpture and Anthropology from Tulane University in New Orleans, LA. Throughout her career spanning over 20 years, she has participated in numerous solo exhibitions across the United States and Germany, and has been the recipient of several fellowship awards. Beyond David Lusk Gallery, Craddock is represented in Dallas, New York, and Los Angeles.