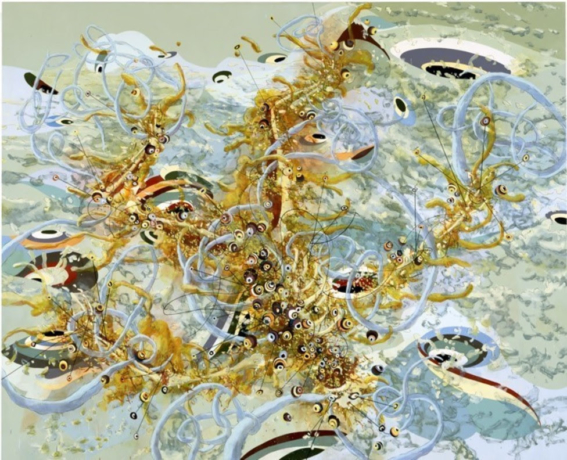 Exhibitions
MATTHEW RITCHIE: A GARDEN IN THE FLOOD
Matthew Ritchie
The Frist Art Museum presents Matthew Ritchie: A Garden in the Flood, a thematic survey of the artist's work since 2000, comprising paintings, drawings, sculpture, and video.
Matthew Ritchie is an internationally recognized artist who has exhibited at major museums around the world including the Guggenheim, the Museum of Modern Art, and the Whitney Museum of American Art; his works were also featured in the 2018 Frist Art Museum exhibition Chaos and Awe: Painting for the 21st Century. A pioneer in integrating disciplines and combining mediums, Ritchie has created deeply symbolic and dynamic installations that often involve architects, dancers, musicians, and other creatives.
"This exhibition is ideal for a creative city like Nashville, with its ingrained and enduring tradition of interdisciplinary artistic collaborations," said Frist Art Museum chief curator Mark Scala. In a recording that provides the sound bed for the exhibition and accompanies Ritchie's new film Telmun, the Grammy Award–winning Fisk Jubilee Singers perform specially commissioned music by the acclaimed composer Hanna Benn.
"Ritchie's works show inner and outer space converging in vistas of black holes and particle clouds, organic mutations and human phantasms, sacred music and scorched cityscapes," said Scala. Teeming with luminous colors, surreal forms, and evocative symbols, they are efforts to visualize the deep human desire to develop "theories of everything" in fields as diverse as literature, mythology, philosophy, science, and technology.
Though his attempts to depict abstract, invisible forces are often rooted in complex theory, Ritchie's art can be appreciated on a strictly aesthetic level. He writes, "Information is itself a material, just like paint, music, or film. All my works can be fully experienced without reading a single text. But like the tales of Scheherazade in One Thousand and One Nights, or a multiverse like the Marvel Universe, there are stories within stories here—should you choose to explore them."
Photo: Matthew Ritchie. The Eighth Sea, 2002. Oil and ink on canvas; 99 x 121 in. Courtesy of the artist and James Cohan Gallery. © Matthew Ritchie. Photo: Oren Slor