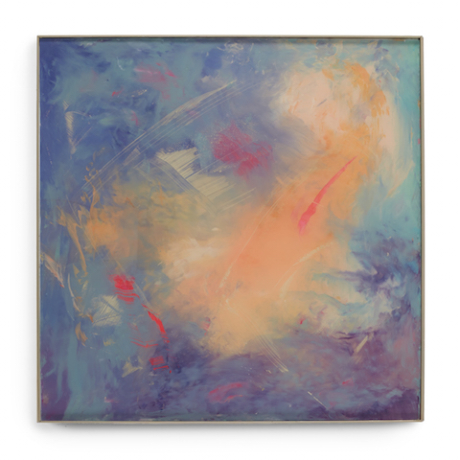 Exhibitions
​MARY MOONEY​: DENIED REALITIES
Mary Mooney
Red Arrow Gallery presents an installation and exhibition of new paintings by Mary Mooney. Denied Realities marks her first exhibition with Red Arrow Gallery and in Nashville.
Mary Mooney is exploring beauty and the feminine. In Denied Realities, Mooney creates colorful and lush abstract works intentionally executed on the reverse side of acrylic glass and custom framed in a bronzed metal. Bold pinks, muted blues, and deep reds move around the acrylic surface creating miniature portals for the viewer to gaze into while also observing reflections of themselves. Bursts of gold lay next to symbolic statements Mooney expresses while painting behind the surface. The installation titled The Path of Least Resistance, speaks to 'breaking the glass ceiling' and involves acrylic sculpture and motion sensor lighting.
Mary Mooney was born in Atlanta, Georgia in 1986 and holds a BFA from Denison University in Ohio. Her art work has been exhibited nationally in Ohio, Georgia, Pennsylvania and most recently at OZ Arts Nashville and abroad in Italy. Mooney describes her style as atmospheric and ethereal, and is drawn to abstract work because its subjective nature embraces multiple interpretations. Mary Mooney currently lives and works in Nashville, TN.
The exhibition Denied Realities will be on view at Red Arrow Gallery from February 11th, 2017 through March 5th, 2017 with a reception for the artist on Saturday, February 11th from 6-9 pm. Writer and Art Consultant, Sara Lee Burd, and Mary Mooney will discuss this body of work on Thursday February 23rd, 2017 at 6PM.
Image: Mary Mooney, Convenient Ignorance, 2017, 30" x 30", mixed media on acrylic glass