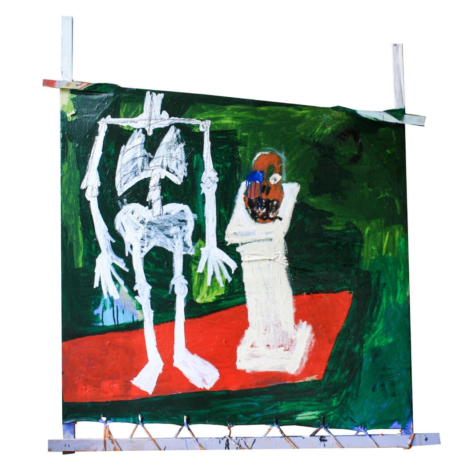 Exhibitions
MARLOS E'VAN: LAND OF THA BRAVE, HOME OF THA SLAVE
Marlos E'van
Red Arrow Gallery is pleased to present a solo exhibition from Marlos E'van. Land Of Tha Brave, Home Of Tha Slave opens on Wednesday September 1 with an Artist Reception on Saturday September 4 from 6-9pm. The exhibition continues through Saturday September 25, 2021.
Land Of Tha Brave, Home Of Tha Slave marks Marlos E'van's second solo show at Red Arrow Gallery. With its title, E'van pays tribute to the original inhabitants of America, Native Americans, often known as "Braves" & African Americans as "Slaves" who both built this country. In fact, it's public knowledge that African merchants were already trading with Native Americans long b4 Columbus "discovered" (the newfoundland) it. Land Of Tha Brave, Home Of Tha Slave not only pays homage 2 freedom fighters, but also recognizes stories & controversial characters such as John Newton, a slave captain who read the bible everyday & held bible study twice a day aboard slave ships on trading missions & wrote "Amazing Grace"; a longstanding church hymn. E'van chose 2 highlight such stories as 2 show links between the oppressive nature of slavers such as Newton, & the effects that those same stale mindsets have 2day, not only in America, but in various colonial territories throughout the world. These supremacy mindsets continue 2 spread hate against POC but no one seems 2 know where the power plug is. E'van is presenting work that is meant to invoke serious conversation/movement based around shifting our world into a more unified position. To do this requires us 2 examine elements that have misled us 2 where we are today; 2 do this requires hard conversations along with a bold confrontation with one's own beliefs & traditions if these venomous cycles are to be broken. We understand that people want 2 know how 2 become better, well it starts within your own heart, mind, & soul. -From the Artist
Marlos E'van, multidisciplinary artist originally from Mississippi, currently lives & works in Nashville, TN. E'van signed with Red Arrow Gallery in 2019 & held their debut show, Slightly Dangerous with them in the fall of that year. Ironically, their second show at the gallery was postponed until 2021 because of Covid. During that time, E'van continued to venture into a wide variety of art forms such as books, performance art, & Polaroid photography. On Juneteenth 2021, E'van opened their first NY Solo exhibition ghostDope at Elijah Wheat Showroom which garnered mentions in Artforum magazine. With an extra year to work, process, & have more real-life experiences; E'van is back with their latest work called Land Of Tha Brave, Home Of Tha Slave.