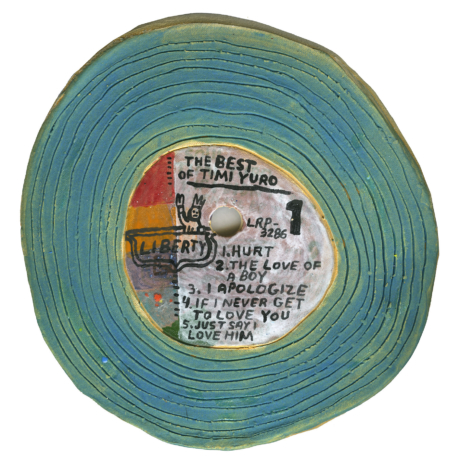 Exhibitions
MARK TODD: LOVE SONGS
Mark Todd
Mark Todd is an internationally known artist and illustrator from Sierra Madre, California, where he lives with his wife, Esther Pearl Watson and their daughter. He teaches illustration at his Alma mater, ArtCenter College of Design in Pasadena.
Mark left California for New York City shortly after graduating and quickly garnered an enviable client list including MTV, The New York Times, The New Yorker, GQ, Rolling Stone... all of whom were clamoring for his signature style - a mixture of fine art, illustration and humor.
For his upcoming show at JMG, Mark has created a series of wooden and ceramic records inspired by his family's extensive private collection. Many of the albums included were inherited from his father and Esther's grandfather who owned a radio station in Texas before his passing. Along with Mark's own love of collecting vinyl, the tributes are broad reaching and plenty eclectic.
The show will also feature a selection of his beloved flower paintings along with cassette tributes and a full blown turntable.