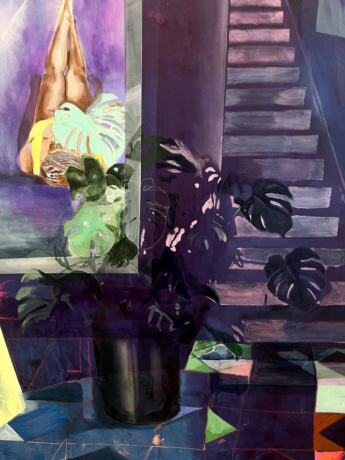 Exhibitions
LOVIE OLIVIA: BEAUTY IS A METHOD
Lovie Olivia
Beauty as a Method is a multidisciplinary exhibition by Lovie Olivia that spans several mediums and methodologies advancing from her three decade long studio practice that, most notably, employs an innovative process of fresco painting. These highly characteristic paintings are accompanied by densely layered collages that transform data and records into portraits, as well as assemblages that transfigure found objects into installations. In addition, Olivia undertakes a non-traditional printmaking process that fuses mold-making with digital fresco.
The show's title, Beauty as a Method, borrows from Christina Sharpe's "Beauty is a Method" from her latest book, Ordinary Notes. In note 51, Sharpe engages with childhood memories, cultural artifacts, art and other notes to offer glimpses into her ideas concerning Black interiority. Olivia regards an expansive Black-Southern-Queer-Femme-American archive as an ideological and conceptual site for rendering new worlds and an emancipatory space for multi-hyphenated subjects. This body of work further articulates her personal world of retreat, created from the reliquary of the seemingly mundane, where the celebration of the Black ordinary is prioritized.
Beauty as a Method is a collaboration with a diaspora of contemporary thinkers. Olivia's creates images influenced by the visceral language of Christina Sharpe, Saidya Hartman, adrienne maree brown, Jennifer Rittner, and others interested in the complex textures of the environments fabricated from their language, their similar passion for survival, and their attention to the aesthetics of retreat.
Beauty as a Method is visually realized through a textural ensemble of marks, sketches, notes, journal entries, preserved images, candid photos taken with her smartphone, and other ephemera collaged and layered to emphasize the multidimensionality and intricacies of hybridized experiences. Analogous to the Practice of sampling and remixing, collage allows for a non-hierarchical presentation of pop-cultural references alongside personal symbolism. Olivia carefully handles legacies of flair, fabulosity, design, and black-urban cultural production. With her bold imagery, Olivia welcomes a restored way of looking in hopes of granting redress from historically difficult conditions.