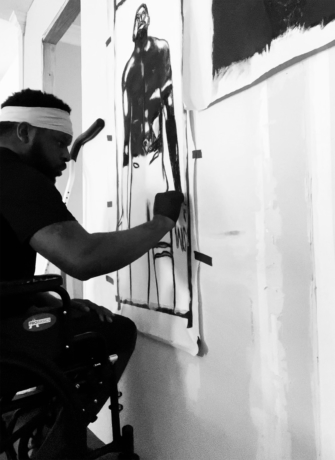 Exhibitions
​​LORENZO SWINTON​: A TEST IN THE SEASONS
Lorenzo Swinton
This November, STATE Gallery at The Forge is proud to present A Test in Seasons, a new collection of works from Lorenzo Swinton. The exhibition will open on Friday, November 17th with a public reception from 6pm-9pm, and continue through December 13th. This marks Lorenzo's second exhibition with STATE Gallery, as well as his second solo show. Earlier this year, Lorenzo Swinton sustained life-altering injuries in a devastating auto accident just outside of Clarksville, TN. This event came within Swinton's residency in the STATE Scholarship Program, and significantly shifted his trajectory both personally and professionally.
With the left side of his body shattered, Lorenzo was left facing the possibility of never walking again, let alone quickly resuming his regular creative practice.
Not one to accept any kind of prescribed limitations, Lorenzo nevertheless persisted in his physical healing, and in making new work. Often working from a wheelchair in a makeshift home studio, Swinton began painting solitary, deeply expressive and starkly posed figures in various states of transformation.
These works demonstrate how a journey through physical healing necessitates a spiritual healing as well; the resulting collection brings the viewer along on this trajectory from darkness to light, despair to hope. In each individual piece and as a whole, A Test in Seasons exemplifies the power of catharsis, and symbolizes Lorenzo's miraculous recovery. These triumphant figures are an exploration of how the creative process can help to harness and exercise trauma, communicating the ability of art to overcome circumstances beyond our control.
Join us in celebrating with Lorenzo on November 17th - see you there!