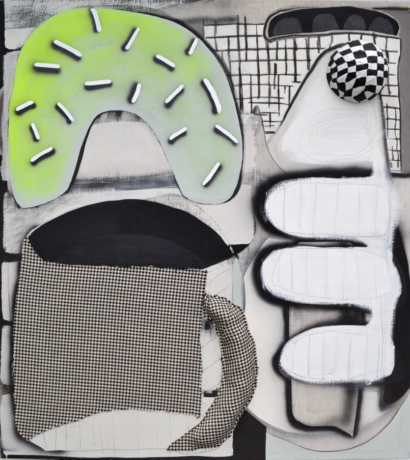 Exhibitions
LINDSY DAVIS: OBJECTIVE NOSTALGIA
Lindsy Davis
Object is memory, texture is time and shine is the reflection of the self. Over the last decade I have been playing with how the eye filters what the mind perceives as spacial depth. I use temperature/tonal shifts, varying mark-making gestures, and different paint finishes that demonstrate Gestaltism in my practice. Gestaltism is a psychological theory postulating that the mind uses negative space, shape association, and tonal cues to dictate depth and meaning through vision. Nostalgia, experience, perception and memory have a huge role in how the eye filters what the mind perceives as depth. Transferring my concepts from wall paintings to sculptural objects during this time of quarantine in the studio has allowed me to understand object as memory, surface texture as time and shine as the reflection of the self. We have all lost something this year. I lost my last parent, that sudden unexpected loss has thrusted my relationship with memory and objects to the front line. By incorporating more aspects of my tactile skills like sewing, carving, burning, stuffing, and building, I forced myself to slow down. Feeling an absence is not comfortable, honoring that feeling and lingering there lets you understand and appreciate that ephemeral aspect of human experience. Loss is constant but we can build feelings of comfort within our community, within our practice, within the space we occupy.
– Lindsy Davis, Objective Nostalgia Exhibition Statement
---
Lindsy Davis (b.1990) is an American artist known for her gesture and negative space work that push and pull the eyes' perception of space and depth. Lindsy works prolifically in series, her compositions question ideas of perceived perception through Gestaltism, and physically binds conceptual metaphor by using resources in the process that solidify her concept. She has spent her career making her process as sustainable as possible by making her own paper, building and burning her tools, deriving her own pigments/ stains, and building her frames. Lindsy has shown internationally, was a National Parks Artist in Residence during their centennial year (2016), she is featured in collections throughout the nation, Canada, and South Africa. She has worked with world renowned artists Ibrahim Miranda and William Kentridge. Lindsy received her Bachelors of Fine Arts degree from the School of the Museum of Fine Arts/ Tufts University in Boston, Massachusetts. She was raised in northern New Jersey, and currently lives and works in Nashville, Tennessee. Lindsy is represented by Red Arrow Gallery.