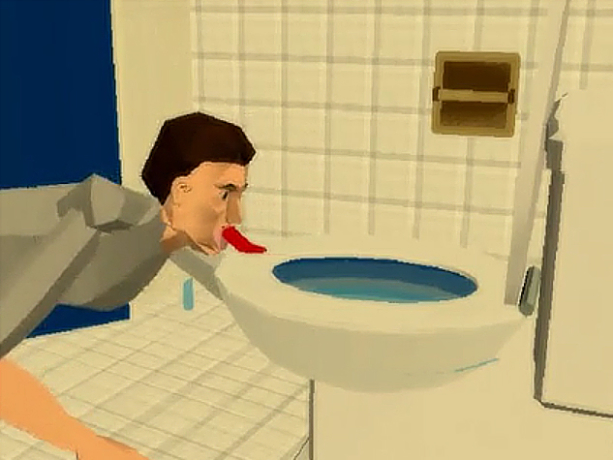 Exhibitions
BARRY DOUPÉ: LIFE AND PEOPLE AND PONYTAIL
Barry Doupé
mild climate presents Life and People and Ponytail, a two-month long solo exhibition of work from Vancouver-based artist Barry Doupé. Life and People and Ponytail opens Saturday, August 6th, from 6-10pm, as part of the First Saturday Art Crawl in Wedgewood/Houston, Nashville, TN. In addition to the gallery show proper, screenings of Doupé's feature-length film Ponytail will be held simultaneously at Track One, 1211 4th Ave S, in the 'Silo Room' from 6-7:30pm and 7:30-9pm.

Life and People and Ponytail: In this series of videos, Life and People restages common life situations to consider different forms of communication, language, and recitation. Completed during a one month Artist Residency at the Western Front, this work marks a shift for Doupé from computer animation to live action video. Ponytail follows several inflicted characters and recounts the ways in which they find resolve. A series of scenarios held together by an attraction to failure and its spectacle describe the characters' malfunction – their inability to fulfill personal desire. Compelled by the consequences and rewards of their attempts they question their own trajectory. Ponytail presents a unique society of characters that employ elements of melodrama, performative monologue and traditional narrative structure.
Barry Doupé (b. 1982 Victoria, BC) is a Vancouver based artist primarily working with computer animation. He graduated from the Emily Carr University in 2004 with a Bachelor of Media Arts majoring in animation. His films use imagery and language derived from the subconscious; developed through writing exercises and automatic drawing. He often creates settings within which a character's self-expression or action is challenged and thwarted, resulting in comic, violent and poetic spectacles. His films have been screened throughout Canada and Internationally including the Ann Arbor Film Festival (Ann Arbor, Michigan), International Film Festival Rotterdam (Rotterdam, the Netherlands), Anthology Film Archives (NY, New York), Lyon Contemporary Art Museum (Lyon, France), Pleasure Dome (Toronto, ON), MOCCA (Toronto, ON), Whitechapel Gallery (London, UK), Centre Pompidou (Paris, France) and the Tate Modern (London, UK).