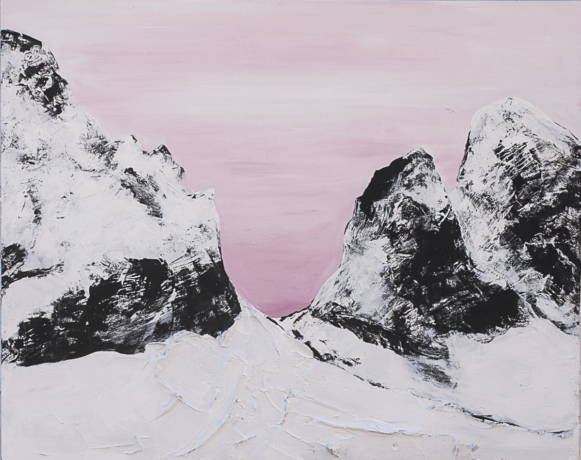 Exhibitions
DANIEL HOLLAND: LESSER GODS
Daniel Holland
Red Arrow Gallery is pleased to present lesser gods, a solo exhibition with Daniel Holland, opening on Saturday, October 19th at 6 pm.

Daniel Holland is looking forward and his new body of work, lesser gods, ties his collections over the last five years, together. Most notable for large scale, abstract maximalist paintings, within lesser gods, he explores a quieter side. Illustrated are many cool-temperate, textured mountains and lush fields of grass and wildflowers. He is surrounded by this beauty living in Asheville, NC.

From his Artist Statement;
A finale.
Peaks ascended.
Valleys settled.
Weapons amended.
Vices dulled.
Waves crash like glue on a coastline long dead with surrender.
Now I tread on soap smooth stones as I lead.
If a man is lucky he can defeat the monsters on his heels before he has to confront the ones on the horizon.
And if he's really lucky he'll find himself at the peak of the mountain, paused, in pure joy, together with all those he loves, safe from the claws of tragedy, feared by demons but ignored by god, safe, in a hard-fought womb bracketed by hell and the unknown. It's in this hazy twilight, this lovely eyed misty morning, with everything to lose that I plunge headlong into battle with these "lesser gods".
---
Daniel Holland (b. 1984, South Carolina, United States) attended Watkins College of Art. He has shown in multiple exhibitions around Tennessee at locations such as David Lusk Gallery and OZ Arts Nashville. Holland has been featured in the Nashville Arts Magazine, NATIVE Magazine, as well as the Nashville Scene and is included in multiple collections across the country. Holland currently lives and works in Asheville, NC.