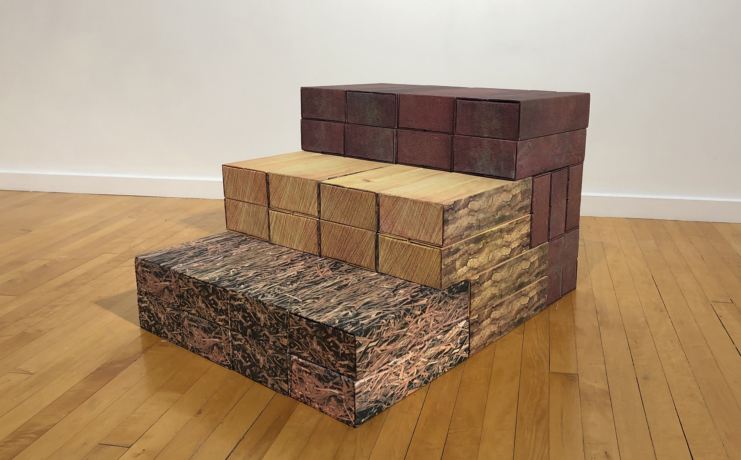 Exhibitions
LAURA BIGGER: ASCEND
Laura Bigger
COOP Gallery is pleased to present Ascend, an exhibition by Laura Bigger.
Ascend represents and critiques ideals of capitalist growth through a familiar story of domestic building materials. From narratives like the Three Little Pigs, we learn a value system represented materially at an early age. Wood is an upgrade from straw, brick an upgrade from wood, and so on. Laura Bigger's work investigates the value we place on objects that bring us shelter and safety, and how this extends to status symbols. There is an increasing proliferation of human made objects purporting to be made of something they are not (such as fake rocks, vinyl siding, and most contemporary flooring). We make the synthetic and ugly look natural and the inexpensive look valuable. Likewise, Bigger's prints and toy blocks are trying to be something they are not. This self-referential work at once embraces and highlights the facade.
---
Laura Bigger is a visual artist and Assistant Professor of Art at Truman State University in Kirksville, MO. She previously taught at the University of Nevada, Reno and Augsburg College in Minneapolis, MN. Originally from Boulder, CO, Bigger received her BA in Studio Art and Hispanic Studies from Colorado College (2008) and her MFA in printmaking from the University of Minnesota (2013). Her work explores the relationships that exist among humans, animals, and ecosystems, particularly in terms of the food chain, raw materials, and the human tendency to exert control over natural systems. It has been exhibited in solo and group exhibitions nationally.
To learn more about Laura Bigger's work, visit www.laurabigger.com.