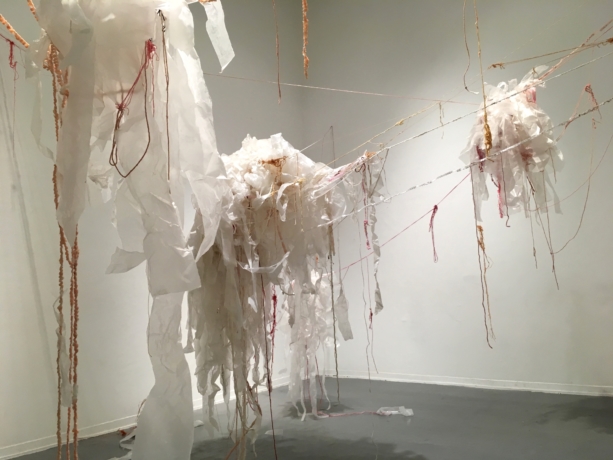 Exhibitions
LACY MITCHAM: NO WRONG WAY
Lacy Mitcham
The Browsing Room Gallery at the Downtown Presbyterian Church is pleased to present an exhibition of artwork by Memphis-based artist Lacy Mitcham.
About the exhibit - in the artist's own words:

"No Wrong Way is an exhibition of art that is made to transform the space to give the viewer an experience as one installation made up of multiple objects. These objects are made from materials that are unusual for sculpture, but are common in everyday life, and are often associated with traditionally female domestic responsibilities. 'No wrong way' has become a motto for womankind that fights against stereotyping and judgement based on any individual's experience. Just as there are traditions to question in gender roles, there are traditions in the art world as well. Art that is made only for the experience of the viewer and not the collecting value is difficult for the art market to deal with. The tangible and collectible object is losing importance for some critics and historians, but changes the value of the market system. By using fugitive and home/craft-based materials to create an experience, No Wrong Way seeks to provide an alternative viewing experience. The placement of the objects as well as their interaction with each other and the space allows the viewer to see these pieces from varying perspectives while navigating the space between each one, as if the gallery has been transformed into a home for the strange sculptural creatures."
About the artist:
Lacy Mitcham received her BFA concentrating in painting and sculpture from University of Louisiana at Monroe where she was president of the honor art fraternity Kappa Pi. She was part of the Upstairs and Big Room co-op gallery space for two years and an active member of the Downtown Arts Alliance before moving to Memphis in 2015 where she is currently an MFA candidate at University of Memphis. Lacy is a graduate instructor at U of M and is co-chair of the Box Gallery.
https://lacymitcham.wordpress.com/
---
Image: Lacy Mitcham, No Wrong Way, 2017, Mixed media, dimensions variable.