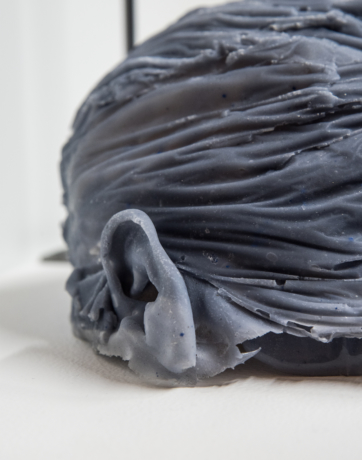 Exhibitions
KYLIE LOCKWOOD: ​THE FINGERTIP IS AN IMAGE-FORMING ORGAN OF SIGHT.
Kylie Lockwood
The fingertip is an image-forming organ of sight. The eye is the part of the body you use to meet a surface without overlapping or penetrating in order to grasp what something feels like.
---
This exhibition brings together work Kylie Lockwood made in collaboration with Daryn R Blanc-Goldhammer at the University of Oregon's Department of Cognitive Neuroscience. Focusing on investigations in human perception, this work consists of multiple sculptures made in response to the experiences and conversations Lockwood engaged in while artist in residence at the U of O's Lewis Integrative Science Building.
The primary component of the work is a binaural audio recorder cast from the artist's head. This device creates a binaural soundscape, exploring the space between a first-hand experience of place and the mediation of that experience though a surrogate self.
---
More about the artist:
Born in Detroit, Michigan, Kylie Lockwood received her BFA from the College for Creative Studies in Detroit in 2005, MFA from Hunter College in New York City in 2010. She attended the
Skowhegan School of Painting and Sculpture in 2014 and is currently the co-director of Cave an exhibition space at the Russell Industrial Center in Detroit, MI. Lockwood's most recent work was exhibited at Cleopatra's in Brooklyn, NY, Lord Ludd in Philadelphia, PA, and Condensed Matter Community at the Synchrotron Radiation Center in Stoughton, WI.
---
More about COOP:
COOP is a curatorial collective made up of artists, curators, thinkers, and professors who are committed to expanding Nashville's dialogue with contemporary art by presenting challenging new or under-represented artists/artworks to our community. COOP is committed to exhibiting art of diverse media and content, with a goal to provide an alternative venue for artists free from the constraints of the retail market. COOP seeks to initiate a discourse between Nashville and art scenes across the country by inviting artists to show, develop projects, and interact with the Nashville community. Website: www.coopgallery.org