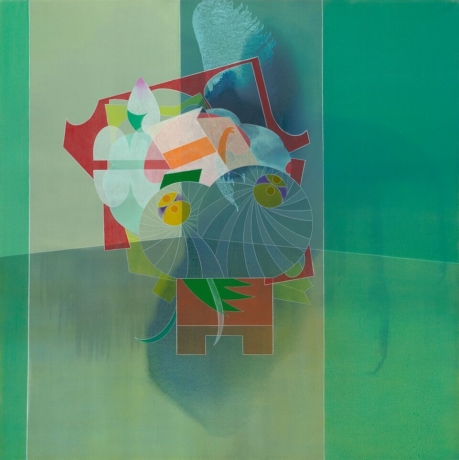 Exhibitions
KUZANA OGG: MUDRA
Kuzana Ogg
Tinney Contemporary is pleased to present Mudra, a show of new paintings by Kuzana Ogg. Ogg's work is based in the principles of balance and restraint, and often incorporates her life experiences living across the world in Bombay, England, South Korea, and the United States. Her abstracts hold shapes which represent memories, philosophical studies, and objects which she finds intriguing.
The show's title, Mudra, derives from the meditational and allegorical hand gestures of the Buddha and traditional Indian dancers. Ogg's paintings follow the abstracted narrative through shapes and gestures taken from landscapes, fragments of Korean text, and other imagery integrated with a more chaotic and "random" gesture of poured and blotted paint. Ogg says this randomness "is essential to the balance of the carefully articulated foreground".
These carefully articulated shapes draw from the artist's memories and philosophies as well as objects. She describes the round conjoined shapes in the foreground as reminiscent of petite iced cakes, something to be enjoyed and savored. A green hand-like shape is abstracted from the artificial grass accompanying sushi. Amongst the elaborate assortment of foreground imagery, there is folded and cut paper, teeth, lotus buds and ribbons. This imagery serves both a formalist and narrative purpose. They are a gesture, inviting the viewer's contemplation and interpretation.
Kuzana Ogg has been an artist in residence in New Mexico, Minnesota, Sir Lanka, and China. Her paintings have been included on the sets of both television shows and feature films- the most recent of which were Me and Earl and the Dying Girl, Southpaw and My All-American. Ogg's first solo museum exhibition was Oil at the San Luis Obispo Museum of Art in 2014, and was shortly followed by a second solo show, Rev Zero, at the Bakersfield Museum of Art in 2015. Her work has been exhibited, published, and collected on both a national and international scale to private and public collections alike.