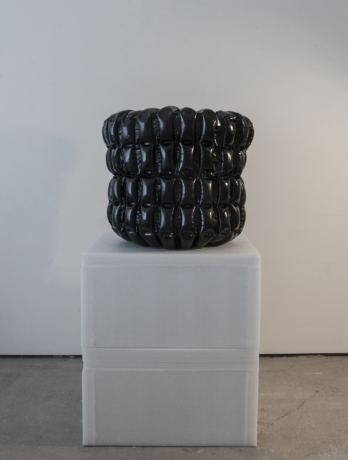 Exhibitions
KIT REUTHER: UNRULY
Kit Reuther
Nashville-based artist Kit Reuther explores mark-making and shape building in her newest body of work at David Lusk Gallery – Nashville.
For many years, Reuther maintained precision and a muted, neutral palette in her figurative and still-life paintings, then in the early 2000s she left representational art completely. Recently her paintings and mixed-media sculpture occasionally surprised viewers with a neon pink or florescent orange mark. Her gestural mark making is still very much present while significantly more color is used in each of these new paintings, paired with rough, found-object sculpture.
"I tend to relate my work to audible sound when I am painting, and there is no denying this series has turned up the volume and commands a louder presence than previously "quieter" work. This series of sculpture exploits utilitarian materials that are otherwise tossed aside. Their role as protector of more precious objects is flipped. Aggregated styrofoam becomes grand and architectural when stacked into a 12-foot high totem. Packing pillows become the external layer of monolithic vessels."
Super-abstracted figures, repeated words and titles like Team Colors and Merrily Merrily evoke a childlike and playful quality often seen in Reuther's sculptures. Bright oranges, greens, yellows and pinks take over her recognizable textured, oversized white canvases. However, Reuther creates conflicting responses withMerrily Merrily, a canvas with the cheerful word repeated down the left side and enthused faces on the right.
A graduate of the O'More School of Design, Reuther is a Nashville-based artist. She was awarded two Artists' Fellowships, one from the Vermont Studio Center and another from the Virginia Center for the Creative Arts. She participated in the VCCA International Residency Program in Germany and the Contemporary Artists Center Residency in Massachusetts. Reuther exhibits frequently across the United States, including San Francisco, Santa Fe, Charlotte and Atlanta, and her work is featured in numerous collections.