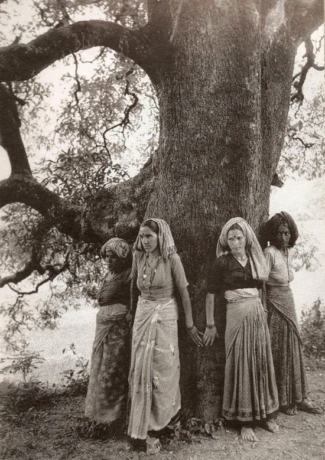 Exhibitions
​KIRAN CHANDRA: SEEING THE FOREST FOR THE TREES
Kiran Chandra
COOP Gallery is pleased to present seeing the forest for the trees, a sound installation by Kiran Chandra.
Mining memory to uncover the connections and disconnections to our environment and our relationship to storytelling, Shanghai-based artist Kiran Chandra looks to a tree found next to her childhood home in Kolkata, India and parallels its echo to a movement of women a mountain range away. Centered around a narrated text, Chandra weaves how we choose to protect and represent memory with how we choose to protect our fictions and truths.

The installation features a one channel audio narration alongside two photographic sculptures.
---
More about the artist:

Kiran Chandra is an interdisciplinary artist currently living in Shanghai. Working through language and writing girds the basis of her work. Her work interrogates time, memory, and meaning in experiential, time - based installations. The relationship of the written and the spoken, the received and the created, and the remembered and the forgotten are thematic touchstones in many of her pieces.

In her installations she provides a phenomenological experience - haptic as well as conceptual. Working across media- writing, sound, images and performance-these elements are presented in immersive environments which the viewer engages with. Her past projects respond specifically to ideas such as: how does the mind hold a concept like infinity, how might the practice of empathy be learned from observing the nonhuman, what is the relationship to spirit and politics of collective action through dance or movement, and how does the 'other' get defined in relationship to the 'center'.
Born and raised in Kolkata, India, schooled in the United States, and having attended residencies in Italy, Mexico, and Russia has informed a sensitivity to location, dislocation, praxis, temporality, power and place. In resistance to the binaries of 'here' and 'there' her work seeks another proposal T(here)- philosophically as well as aesthetically.
---
image: Inspired by Gandhian principles of nonviolence, Chipko protesters embracing a tree to prevent its felling in rural India. image credit: Britannica