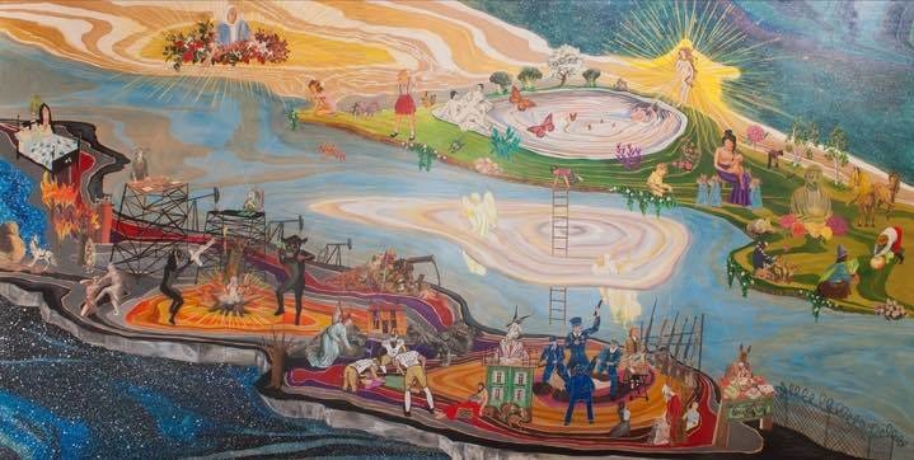 Exhibitions
KATE KREBS: MY LOVE DIVINE
Kate Krebs
Red Arrow Gallery presents an exhibition of new paintings by Kate Krebs opening on March 11th, 2017. My Love Divine marks her third solo exhibition with Red Arrow Gallery and in Nashville.
Kate Krebs is a contemporary visual storyteller. Nearly two years since her last showing, Krebs returns to the Red Arrow Gallery with a new body of work that gives a nod to previous showings by combining mediums of collage and painting on her favorite chosen surface, wood. She plays with the curves of the natural wood grain by using their sweeping strokes to highlight and transition each work.
Krebs, a master of constructing intimate storylines with multiple, relatable characters, uses this body of work to speak to the connections between the transitions in her personal life that involve society, humanity, and religion. Krebs says "Within these transitions I explore morality and human connection or lack thereof. Our connection to each other, God, the divine feminine, the heavens, and history. A culmination of the parallels of my religious upbringing, my environment and to biblical stories."
Kate Krebs was born in Mobile, Alabama in 1984 and was raised in Ocean Springs, Mississippi. She attended Mississippi Gulf Community College and later studied fashion illustration, design and 3d sculpture at the Columbia College of Art and Design, but she is essentially a self-taught artist. She has participated in various group shows in Nashville and her work graces multiple collections in the Southeast. Kate Krebs currently lives and works in East Nashville, TN.
The exhibition, My Love Divine, will be on view at Red Arrow Gallery from March 11th, 2017 through April 2nd, 2017 with a reception for the artist on Saturday, March 11th from 6-9 pm.
image: Kate Krebs, Awakening of Cosmic Consciousness, 2017, 48" x 108", mixed media on wood