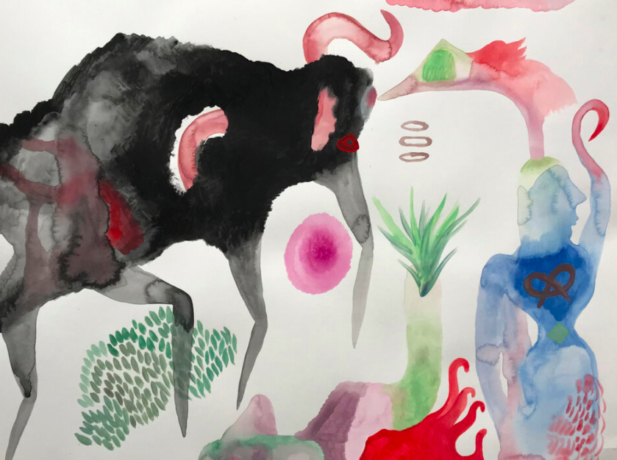 Exhibitions
KATE CSILLAGI: NEVER LANDING
Kate Csillagi
What are people without a destination and without an end goal in sight? They are still or in motion, but lacking the bifurcation of here or there. Originating from the forced tabula rasa of isolation, Csillagi's Never Landing is an antidote to stagnation. Mused by twilight excursions to the springs she grew up with, Csillagi's imagery is organized like spontaneous synchronization amid the chaos of nature. The work ranges in media, from iridescent watercolors to vibrant printed tapestries. A spirited array for the weary and worn, Csillagi invites the viewer to take flight into gonzo scapes of creatures, color, and alchemy.

Bio
Kate Csillagi (b.1981), a multimedia artist hailing from Austin, TX. Her works unearth psychotropic and primordial imagery while maintaining a whimsical approach. Inspired by animals, archetypes, and dreamscapes, she explores themes of the supernatural and the playfully forbidden.
Csillagi attended the School of the Art Institute of Chicago and Evergreen State College exploring a wide range of materials and delving into critical theory. Early on, Csillagi created zines and designed flyers & album covers. Csillagi shows her work and contributes to renegade art spaces throughout the United States in Reno, Nashville, Columbus, Virginia City, New York, Olympia, and Austin. Kate also helped form ICOSA, an artist-run collective and gallery in Austin.