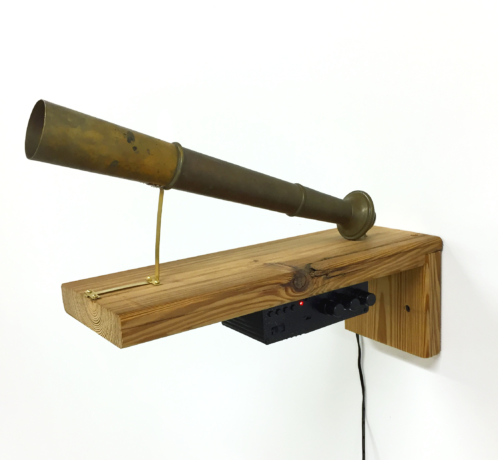 Exhibitions
JUSTIN BOYD: SOUND ENRICHED OBJECTS
Justin Boyd
November 5th – 30th – opening reception November 5, 6-9pm with opening night performance at 8pm

COOP Gallery is pleased to present Sound Enriched Objects, an exhibition and performance by Justin Boyd. About this work Boyd says, "reclaimed objects existing in the present can project a different future through the vibration of sound."
This will be Boyd's first exhibition in Nashville, and the artist will be present at the opening reception. Additionally, at 8pm opening night Justin will present an electro-acoustic performance using a modular synthesizer, solenoid motors and contact microphones. This piece seeks to augment the gallery show through the action of playing everyday objects in a live setting.
More about the Artist:
Justin Boyd is a Landscape artist living in San Antonio. He received his BFA from the University of Texas at San Antonio, and his MFA from the California Institute of Arts. He is currently the Chair of the Sculpture and Integrated Media at the Southwest School of Art has received an Artist Foundation Grant, Artpace Travel Grant, was a finalist for the Arthouse Texas Prize, and has had the privilege of participating in numerous solo and group exhibitions.
Website: http://www.justintaylorboyd.com
More about COOP:
COOP is a curatorial collective made up of artists, curators, thinkers and professors who are committed to expanding Nashville's dialogue with contemporary art by presenting challenging new or under-represented artists/artworks to our community. COOP is committed to exhibiting art of diverse media and content, with a goal to provide an alternative venue for artists free from the constraints of the retail market. COOP seeks to initiate a discourse between Nashville and art scenes across the country by inviting artists to show, develop projects and interact with the Nashville community.
Website: http://www.coopgallery.org