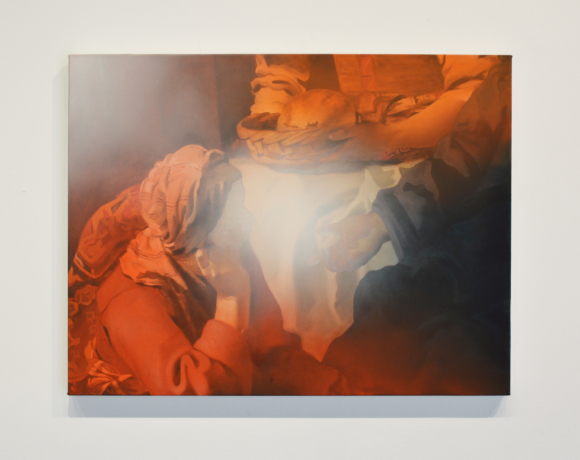 Exhibitions
JULIAN ROGERS: ALEXANDER'S DARK BAND
Julian Rogers
The Red Arrow Gallery is pleased to present Alexander's Dark Band, a solo exhibition with Nashville native, Julian Rogers.

Julian Rogers creates photorealistic, still-life paintings that challenge the value of seeing and the need/use of light. Using oil paint as his medium on canvas, Rogers sets up his paintings first by creating the stage and capturing the subjects in question with a camera. Taking photographs of fruit carefully placed in the rocky sand while on a hike or clothing strewn about and seemingly taped on the wall thereby playing with perspective. This series also includes multiple pieces that are direct copies of details of old master paintings, whose subjects and contexts are discarded as they are reframed in order to see the origins of abstraction.

Alexander's Dark Band is the dark area that appears between two rainbows in the event of a double rainbow. The paintings in Alexander's Dark Band look at the history of painting in two ways and use a monochromatic or multicolored spectrum to do so. With a veil-like quality on the surface of each work, digital images of these paintings are very difficult to capture, and the eye continues to search for what it's seeing.

For a long time, I worked in photorealism, and this took me to New York where I was able to make a living painting for other artists. But after years and years of this kind of painting, I began to lose interest in illusion; everything became surface. So, I could look at a set of identically painted Jeff Koons paintings and see that Marlene painted this one, Ed painted that one, Corey did this, and Pat did that (even though they all looked as if they had been made by machines). I spent a few years trying to break away from this condition, trying to find new ways to make marks, but I found that if I reduced the amount of information in the image there was a new kind of seduction. I came back to realism with this in mind and saw that a darkened scene triggered something in my mind and made realism seem fresh. At times I think of Basquiat crossing out his painted text, and about how this makes people want to see what was written. It's not the same thing, but there is a way in which taking something away makes us hungrier to see it. That seems true across the board.
— Julian Rogers, Contemporary Art Review, LA / Interview, 2015
Julian Rogers (b. 1981) is a Nashville native who lived for five years in New York, painting for artists Jeff Koons and Bjarne Melgaard, and another five years in Los Angeles/San Diego where he received an MFA from UCSD and was represented by ACME Los Angeles. During this time, he showed his paintings both internationally (Spain, Japan, Mexico) as well as across the United States. His paintings have been collected around the globe, including the Museum of Contemporary Art, San Diego. He recently traveled throughout Southeast Asia, India and China for fourteen months and is currently combining his studio and travel lives as he paints while crisscrossing America. This is his first solo show in Nashville and with The Red Arrow Gallery.