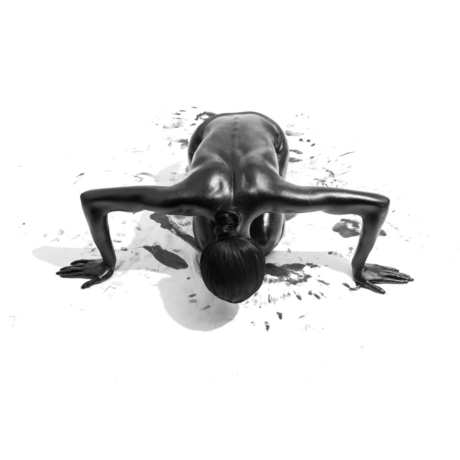 Exhibitions
JOSEPH PATRICK: THE SOCIALIZED EXPERIMENT
Joseph Patrick
In this multi-phase interdisciplinary experience, photographer Joseph Patrick deals with pain, generational trauma, and the idea that the narratives of black people can be explored without the prostitution of either. The Socialized Experiment was designed to allow viewers room to decompress, meditate and find space to create their own stories, all while aiming to highlight the importance of mental health as it relates to African Americans.
The subjects are covered in a makeup – a mixture of charcoal and petroleum jelly or black grease paint, similar to the face paint used in blackface minstrel shows of the mid-nineteenth century. The models move in a slow, controlled manner allowing them to become the creator and the creation. The ink is transferred from body to paper, creating abstract, semi-symmetric "ambiguous design" analogous to inkblots made famous by Hermann Rorschach.
---
Joseph Patrick is best known for his attention to light and form in figure nude and editorial portraiture photography.
Born in Nashville, Tennessee, Joseph holds a B.S. degree in Electrical Engineering from Tennessee State University. He cites this indoctrination to his obsession with light in both its physical and artistic properties to create photographs ranging from stark, contrasty, and dense to soft and sometimes moody editorial portraits.
Influenced by photographers such as Tim Walker, Helmut Newton, and Carrie Mae Weems, Joseph aims to merge imaginative storytelling and physical beauty with surreal and absurdist ideas.