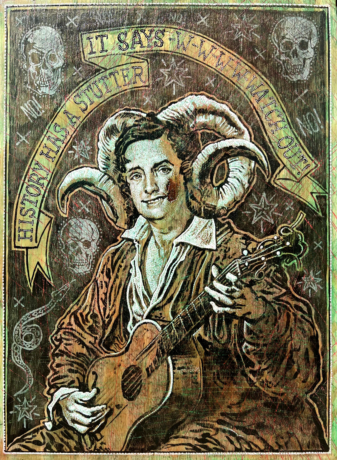 Exhibitions
JON LANGFORD: ONLY DEMONS
Jon Langford
For September, it is a pleasure to welcome back Mekon and Waco Brother, Jon Langford, with a fresh batch of cross pollinating song paintings.
"Wheels stuck in the pandemic mud it was song writing that saved the lad! And from the songs came new art - worlds connect, words whirl through landscapes, portraits, dreamscapes and disasters as ghostly faces peer back at us from the realm of song." -JL
ONLY DEMONS
The job's too hard for any human.
Anyone who would look me in the eye.
The hours are long and unrewarding.
Only demons should apply!
Paint a picture in a hurry.
Take a number and step back.
Good for nothing, nothing doing.
Job description psychopath!
Would you do the things I wouldn't?
Could you live or could you die?
Under such extreme conditions?
Only Demons should apply!
No, I'm not looking for an Angel
to give me wings that I might fly.
Walk me over to the precipice -
one good kick should do the trick!
Soak up the lyrics that gave birth to his latest body of work, and join us around 7:00 on Saturday, September 17th, for a live Jon Langford performance on our front porch, backed by some of Nashville's favorite sons.
Jon is available for questions or interviews, simply reply to this email. Additional images upon request. Thanks so much! -JM