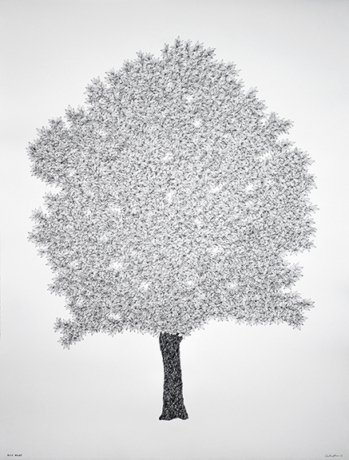 Exhibitions
JOHN SALVEST: FIELD GUIDE
John Salvest
Artist John Salvest takes the walls at David Lusk Gallery Nashville for his first show on Hagan Street. Originally appearing as drawings, the intricately stamped ink trees in Field Guide entice us to look closely at each vein, leaf point and trunk marking. These drawings were realized after Salvest's exploration of creating one full tree using one small handmade, handheld tool.
Salvest's love for wordplay stands out in Tree of Trees, a cylindrical sculpture made from a vintage stamp holder and found wooden rubber stamps retired from a bank. Stands like this are often called "trees" due to their vertical and layered nature. Exploiting that linguistic fact, Salvest replaced the bank stamps with a collection of homemade leaf stamps. These stamps showcase 26 different species of trees, resulting in a tree of trees.
After fabricating his Tree of Trees, Salvest understood that one tree is made of many of the same leaves. From there he began printing trees entirely out of a single leaf stamps.
With as much truth to the source of the rubber stamp, Salvest uses black ink on white paper to create intricate marks. The name of each tree stamped in the corner allows this exhibition to feel like an oversized guide book. While walking through the gallery, each work is a page in the field guide.
Based in Jonesboro, A.R. Salvest is a Professor of Art at Arkansas State University. He received his B.A. In English from Duke University and an M.F.A. in sculpture from the University of Iowa. In addition to being reviewed and featured in numerous publications, such as Art in America, The New York Times, Art Papers and The New York Examiner, Salvest is the recipient of various awards and grants including National Endowments for the Arts Fellowships in 1991 and 1993, and a Pollock-Krasner Foundation Grant in 1998. He has completed public art projects for the Cannon Center for Performing Arts in Memphis and the Hartsfield-Jackson Atlanta International Airport. His work has been presented in solo and group shows throughout the country.