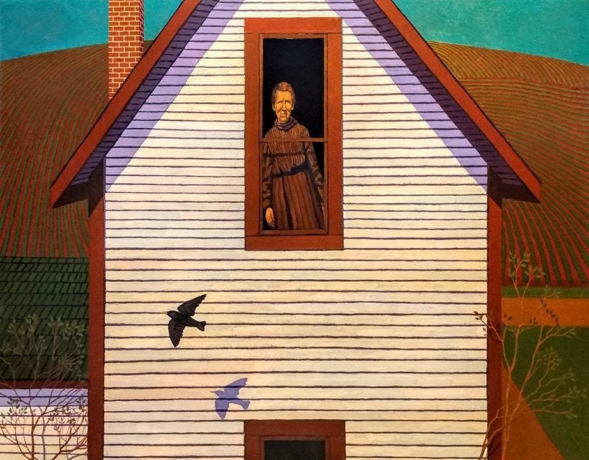 Exhibitions
JOHN ROBERTS: THE LONG PASSOVER
John Roberts
This summer, David Lusk Gallery welcomes John Roberts to Nashville for his first solo exhibition THE LONG PASSOVER in Nashville. Shaped by his family history, Roberts paints memories of loved ones, youthful experiences, and shared identity that express the extraordinary within everyday environments. His realistic works transport the viewer to another place and time.
Roberts' 2022 DLG-Memphis exhibition gave us an intimate look at generations past and present who inhabited the family farm in Weakley County, Tennessee. Surrounding the houses and possessions of his ancestors are vast fields of crops and thickly wooded acres. As he remembers family stories, Roberts narrows his focus to emotional depictions of loved ones' milestones and rites of passage. Roberts joins regionalist painters like Thomas Hart Benton, Grant Wood, and Carroll Cloar who've shared life in Middle America with mythical, fable-like imagery that reveals a more honest and dark, yet tender endorsement of the heartland.
"With my oldest son's first breath, I began a journey shared with my ancestors: the journey of a parent. Living in the century-old farmhouse they once inhabited, I often consider the struggles and uncertainties of their lives, especially as mothers and fathers. In these works, symbols of physical and spiritual harm, frailty, hope, and transcendent love surround both my ancestors and my children. Each painting and drawing is a visual prayer and a confession of fear and doubt from the journey of a parent."
There is a reverence for people that Roberts emphasizes in his work. Within the celebration of the land, which has been in his family for eight generations, the people - daughters, uncles, grandmothers, sons - are the cornerstones, centerpieces, and foundation of his paintings and life. A sixteen-year-old with shaggy hair and a slight smug smirk patiently waits for a parent to snap her picture before hot rodding out to meet friends. A child confidently prepares for a hunting excursion - hopefully one less jarring than an earlier experience. In others, we surprise a mountain lion sneaking through the laundry drying on the line and witness grandparents keeping watch over the property from upper rooms in the house. Roberts' nostalgic paintings remind viewers of generations, ways of life, and tranquility that no longer exist. They are warm, quiet, and deceptively complex works.
---
John Roberts was born in Memphis, TN, grew up in Searcy, AR. He lives in Sharon, TN, on land that his distant grandmother bought and settled in 1838. He holds a BFA in Painting and Drawing from Harding University and an MFA in Painting and Drawing from the University of Arkansas. As a long-time tombstone etcher, he comes by supernatural encounters honestly. He lives and paints on the family farm with his wife and eight children.
David Lusk Gallery is located at 516 Hagan Street in Nashville. Gallery hours are Tu-Sa, 10-5. For more information or visuals please contact Lees Romano at 615-780-9990 or lees@davidluskgallery.com.