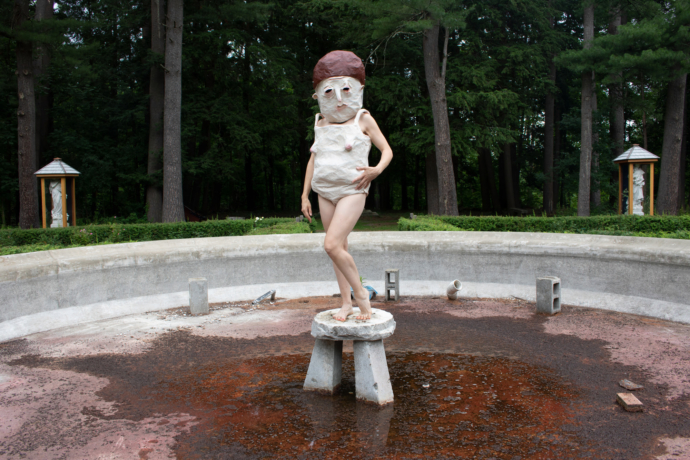 Exhibitions
JOHANNA WINTERS: RINGURR
Johanna Winters
Johanna Winters is a puppeteer and educator based in Kansas City, MO. Her work engages puppetry, video, performance, and sculpture to dispatch anxieties about aging in a female body.
COOP Gallery is pleased to present Johanna Winters' first exhibition in Nashville: RINGURR. Winters' work considers the condition of a reticent protagonist who totters between keening self-pity and private indulgences. She doubles as both hero and buffoon in solitary performances in which she labors over tender actions, such as jogging, eating cereal, or posing on her bed. She turns toward the camera to perform for a pretend audience, and on occasion we peer at her truncated limbs through a pinkish oval aperture that suggests both peephole and interior sightline. In this way, a double-gaze emerges that is at once empathetic and voyeuristic. As she looks out from herself, we are permitted entry into this intimate portal to witness the wax and wane of her viability and sensuality.
Through video, audio, and sculpture, Winters manifests the RINGURR as an embodied chaperone adorned in papier-mâché costuming and appendages. She navigates her environs devoid of human presence (empty garden fountains, empty home interiors, empty forests), yet she is titillated by the possibility of being witnessed. In this way, we might recognize a familiar tension between consented and unwanted noticing. Her bumbling and muted disposition cajoles onlookers into a (pitying?) response that offers up the validation she seeks.
Johanna Winters will be present at the opening reception and at COOP's NADB event on Wednesday, December 1st.
To learn more about Johanna Winters and to see more of her work, visit her website: www.jojowinters.com or follow her on Instagram: @uunruffian.
See you on Saturday, December 4th.