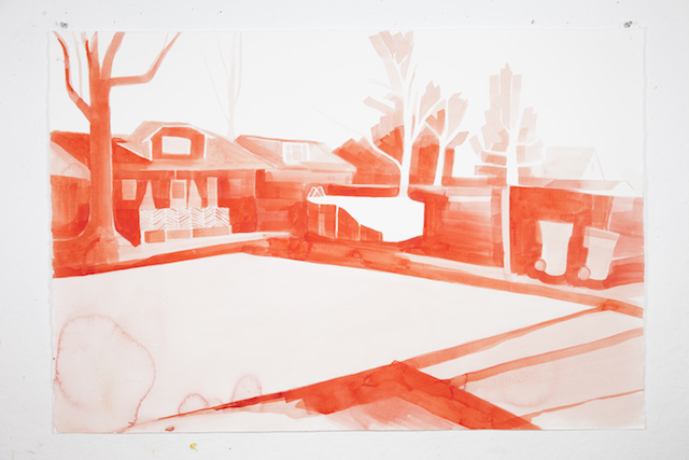 Exhibitions
JODI HAYS: KEEPER
Jodi Hays
Red Arrow Gallery Presents a solo exhibition of new paintings by Jodi Hays. The artist reception for KEEPER opens on Saturday November 11th, 2017 and runs through December 3rd, 2017.

Jodi Hays is observing our community and her space in time. In KEEPER, we find Hays' responding to many walks through her neighborhood, its proximity, and how everyday issues like racial bias, class, and gentrification affect her through that lens.

Her traditionally abstract, landscape driven artwork, seemingly has a more representational feel and the deliberate use of red paint is skillful and illuminating. Using ink, oil and spray-paint, tape, knives and brushes, Jodi Hays' new body of work comprises multiple small paintings on paper that will be staged as an installation, as well as medium and large scale works on canvas that will grace the main gallery walls. A limited edition, collectible catalog will also be available.

Jodi Hays is the recipient of the Individual Artist Fellowship from the Tennessee Arts Commission, an Elizabeth Firestone Graham Foundation grant and her works are included in collections of the J. Crew Company (NY), Nashville International Airport, Gordon College (MA) and the Tennessee State Museum. Residencies include The National Parks of America, The Cooper Union School of Art and Vermont Studio Center. She received her M.F.A from Vermont College, her B.F.A. from The University of Tennessee and studied Foundations at School of Visual Arts (SVA). She lived and worked in Boston for several years where she was Assistant Director at the Cambridge Art Association. She moved to East Nashville in late 2005 where she maintains a studio and pop-up gallery (Dadu). Her practice includes work with COOP Gallery (a Nashville-based curatorial collective for which she was a founding member) and teaching. Her work is represented by The Red Arrow Gallery, East Nashville, TN.