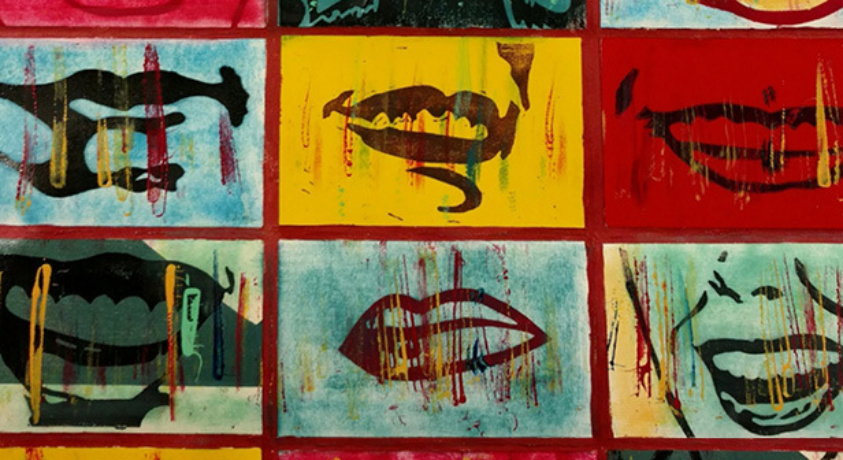 Exhibitions
JIM SHERRADEN: REPETITIVE EXTREMITIES
Jim Sherraden
Retired Hatch Show Print Master Printer Jim Sherraden will exhibit new work including his intimate and detailed paper quilts alongside monoprints created during his tenure at HSP using the historic HSP archive of wooden blocks in unique and inventive ways.
Jim Sherraden, a native of Kansas, has been a resident of Nashville since 1977. He managed Hatch Show Print from 1984 until 2013, overseeing its transition from a cultural survivor to a widely recognized graphic design icon and destination for letterpress enthusiasts. In 1992, he began creating individual pieces of art based on the Hatch archive. Sherraden then returned to carving his own woodcuts in 2005, and later began creating wooden and paper quilts, in which the artist readily cuts up his own printed pieces, mixing and matching them on single and multi-dimensional surfaces.
His quilts have recently been shown at the AD 20/21 Boston Print Fair, the Lancaster, PA Letterpress Printers Fair, and From Brayer to Brush at the Southern Studies Conference at Auburn University, Montgomery. He was awarded the 2013 Distinguished Artists Award for the state of Tennessee, the American Advertising Federation Nashville chapters' Silver Medal, and is a recent recipient of the University and College Design Association's Krider Prize for creativity.