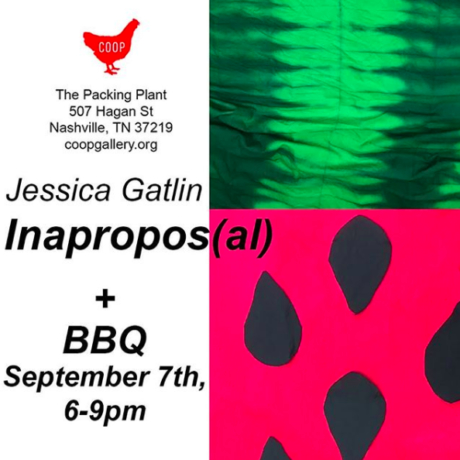 Exhibitions
JESSICA GATLIN: INAPROPOS(AL)
Jessica Gatlin
Through a range of media including print, video, and installation, Jessica Gatlin investigates social programming and seeks ways to both resist and overcome it. From her statement:
Imagine: You have been educated and socialized into a white supremacist capitalist patriarchy with a long history (presence) of violence and colonization. You are a very tiny part of a complex and indifferent machine — a machine actively seeking to destroy that which it cannot exploit. How might you respond to learning about your programming?
---
Jessica Gatlin is an artist, maker and part-time sorceress originally from Jackson, TN. She received her BFA in Studio Art from Florida State University and MFA from the University of Tennessee – Knoxville. Gatlin exhibits her work widely, including recent shows at Co-Prosperity Sphere in Chicago, IL and the Holland Project in Reno, NV. She has also participated in several reputable artist residencies and fellowships, including the Eugeniusz Geppert Academy of Fine Arts in Wroclaw, PL, the Ox-Bow School of Art and Artist Residency (Saugatuck, MI) and the Artists' Cooperative Residency & Exhibitions, A.C.R.E. (Steuben, WI). In 2019, she served as the Hamblet Artist-in Residence at Vanderbilt University. Gatlin has recently joined the faculty at the University of Maryland, as an assistant professor of print and extended media.