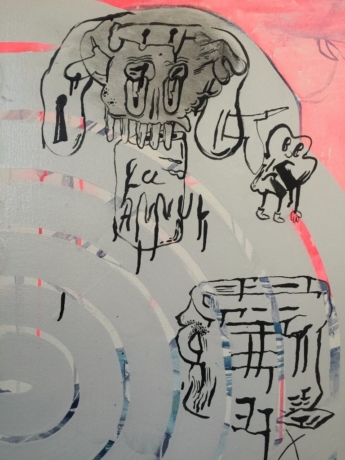 Exhibitions
JEREMIAH ARIAZ / JOSH ELROD / CHRISTOPHER ROBERSON
Jeremiah Ariaz, Josh Elrod, Christopher Roberson
"Jeremiah Ariaz: Louisiana Trail Riders"
Through various projects, including Reconsidering Landscape, Staging the West, Tucumcari, Fact and Fiction and most recently, Louisiana Trail Riders I have sought to deconstruct the mythology of the American West. My work exposes the contradictions of the imagined, frequently romantic, American frontier and inverts expectations of popular Western figures.
"Josh Elrod: Desire Lines"
Josh Elrod is a painter, actor, co-owner of Germantown shop Wilder and 10 year veteran of the Blue Man Group.
"Christopher Roberson: Mono"
Mono means one; single; alone. The works in Mono represent an emptying out. Roberson has simplified his drawing tools to sumi ink, paper, and a single brush. They are the product of hundreds of other drawings, from which he steals and recombines forms, making them into one.