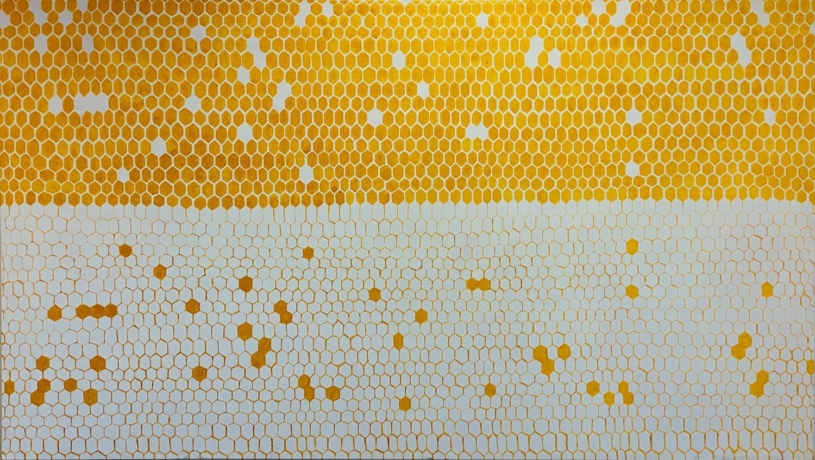 Exhibitions
JENNIFER PEPPER: FITS OF NATURE
Jennifer Pepper
Galerie Tangerine is thrilled to showcase local artist Jennifer Pepper and her immense talent at her upcoming solo exhibition, Fits of Nature.
Artist Statement:
"The artworks for Fits of Nature developed organically over the past few years as meditations on my awareness of "nature" both within myself and what I observed from time spent outdoors- hiking, gardening or bee keeping. The idea of nature brought with it the complexities of how we interact with and view what is considered the "natural" world. And now, perhaps, we are all more aware of the outdoors after our time finding refuge, and to certain extent, safety among the trees and fields outside our walls. These artworks combining wax, wood, and pigment all express my fascination with intricacies in the landscape, our relationship to the outdoors, and my respect for some of its smallest and most vital inhabitants- like pollinators such as bees and butterflies.
For nearly seven years, I kept honeybees on our property in hopes of giving aid to a struggling insect and learning the age-old practice of beekeeping. The seasons and cycles of bee keeping activities seemed to parallel and complement art making- so much so, that used wooden hive equipment and beeswax leftover from processing honey became material for artwork. After years of tending a hive, one begins to recognize nuances in the form and energy of its occupants. A successful beekeeper learns to interpret these signals and try to anticipate colony needs. One colony contains between 3,000-10,000 honeybees and a queen. A beehive can be a symbol of chaos and order. The order and hierarchy of the colony I rendered into line, shape, and materiality in these works. I looked to express the rhythms and flux of nature through the visual poetry of geometric forms (like the hexagonal bee cell, the honeycomb frame, the hive box, etc.), cursive writing, repeated forms, or color.
With the self-imposed limitations of recycling leftover beeswax and wooden equipment (much of it used), my investigations of material, form, and metaphor are also shaped by 19th century Romantic ideas of landscape- in particular, the importance of humans living in harmony with nature. I wonder what this means as we have moved from a point in history of exploration and consumption to a point where we realize the necessity and fragility of each component of the natural world right down to the microbes that surround tree roots (and have recently been discovered to aid in tree communication). I chose to draw and paint parts of the landscape around my property from observation. From delicate minutiae of lichen found on the north side of the trees to the breath-taking views along a trail that runs behind my studio, I create artworks that celebrate the beauty and mystery of nature while straddling concern for our place in it in the 21st century." - Jennifer Pepper