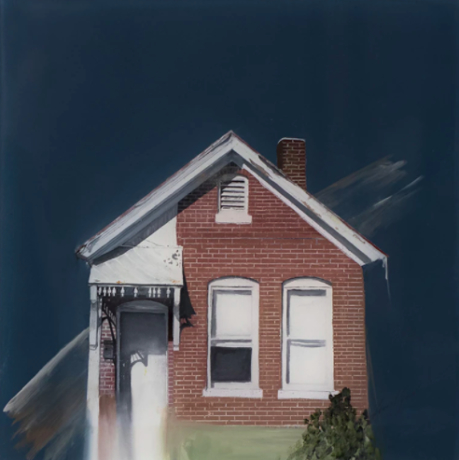 Exhibitions
JARED SMALL: NEW WORKS
Jared Small
Jared Small returns to David Lusk Gallery Nashville with his anticipated solo exhibition, New Works.
OPEN HOUSE: Saturday, December 5, 11-3pm
LIVE INSTAGRAM TOUR: Wednesday, December 9, 12:30pm
Since childhood, Jared Small has been captivated with the beauty of gentle decay in his surroundings. He sees the structure of the Victorian home, aging amidst the warm, lush vegetation of Memphis and the Delta region, as a portal into layered narratives of the past. Painting from photographs and his imagination, a sense of magical realism envelopes his compositions of homes, flowers, and portraits. These subjects become mysterious artifacts symbolizing the cycles of seasons, death, and rebirth. His surfaces are brilliant, glossy, almost glamorous - a marked but pleasing contrast to the peeling paint, sagging rooflines, broken windows, and wilting petals of age and dilapidation. Where the subject meets the background, realistic edges dissolve into a translucent, haunting abstraction, as if crossing into another realm. The viewer is lulled into a dream-like state, caught between the realities of the obvious image and the histories, memories, and possibilities that lay beneath the surface.
---
Jared Small is a native Memphian. He attended Overton High School and the University of Memphis, and has participated in numerous exhibitions in Tennessee, and a major solo exhibition at the Huntsville Museum of Art. His work is in the collections of Butler Snow Law Firm, Memphis; Commercial Bank and Trust, Memphis; Double H Farms, CT; Duke Aesthetic Center, Durham NC; Duncan Williams Inc, Memphis; First Bank, Nashville; Fidelity Investments, Raleigh, NC; HLM Venture Capital, San Francisco; Huntsville Museum of Art, Huntsville, AL: Jones Clinic, Memphis & New Albany MS; LeBonheur Children's Hospital, Memphis; M2M, Mobile Mercer Capital, Memphis; Memphis Brooks Museum of Art, Memphis; Renasant Bank, Memphis; NSA Headquarters, Collierville, TN; Music City Center, Nashville; New Media Strategies, Arlington, VA; Pietrangelo Cook Law Firm, Memphis; Regions Insurance Headquarters, Memphis; St Mary's Episcopal School, Memphis; and Suntrust Bank Memphis, Headquarters.