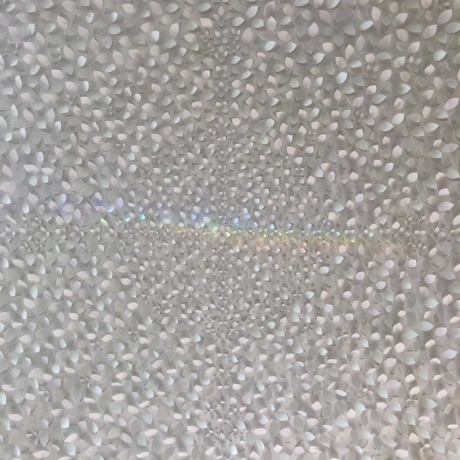 Exhibitions
JAQ BELCHER: CLEAR LIGHT
Jaq Belcher
Tinney Contemporary is pleased to present Clear Light, a solo exhibition by internationally recognized artist Jaq Belcher. The exhibition will be on display from June 10, 2023 through July 22, 2023. The opening reception will be held on July 1st from 2-8 PM, concurrent with the First Saturday Downtown Art Crawl.

Belcher's work is inspired by the contemplative process of reduction and repetition as she methodically hand cuts and counts sacred geometric forms into single sheets of white paper. She investigates her own personal and spiritual understanding of frequency, light, and consciousness. Each piece has its own energetic signature that is designed to invite the viewer into its field.

Clear Light will present nine new works created over the last three years. The Light We Cannot See is an 80 in. suspended sheet of paper with 10,977 cuts. The removed matter will be presented in a floor drawing created by the artist over the course of the exhibition in response to the space and light of the gallery. Inspired by the exploration of subtle energy, meditation, bio-geometry and its relationship to the human body, Belcher considers the piece "a material/externalized prayer."

After more than two decades of using only white paper, this show will feature Belcher's first large scale work in black, Blind Faith (2022). 12,192 cuts invite the viewer to shut out the world; to be absorbed by the dynamics of the darkness and the "sound current" that runs through the piece.
Jaq Belcher is Australian-born, and moved to NYC in 2001. She currently resides and works in Woodstock, NY. She received her Bachelor of ED Visual Arts, Melbourne University, a Bachelor of Fine Arts from the Royal Melbourne Institute of Technology and her Master of Arts Administration from the University of New South Wales College of Fine Arts. Her work has been exhibited and collected internationally, with recent solo shows at prominent galleries in New York, Connecticut, Florida, and Texas. She is the recipient of numerous awards including the Dessie Greer Award for graphics, the Elizabeth Foundation for the Arts Studio Program, and the Mary Hinman Carter Prize from the National Academy Museum, NYC.