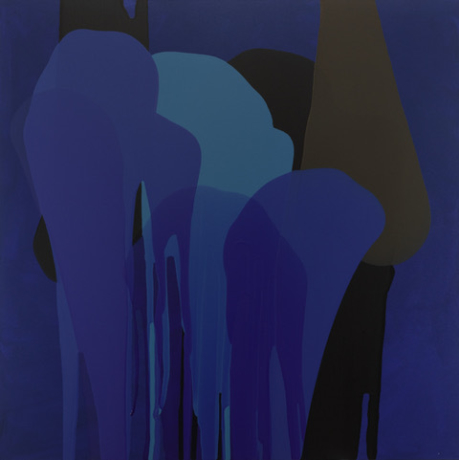 Exhibitions
JANE BRADDOCK: 3 RIVERS
Jane Braddock
Tinney Contemporary is proud to present 3 Rivers, an exhibition featuring works by Jane Braddock. The exhibition will be on display November 4, 2023 through December 9, 2023. The opening reception will be held on Saturday, November 4th from 2—8 PM in conjunction with the First Saturday Art Crawl.
Braddock creates vibrant abstract paintings divisible into three series, each with a distinct approach. In her Shakti series, repeated gestural markings and drips yield a densely-layered field of intense hues—frenetic and dynamic, yet achieving a holistic harmony. In her Text series, mantra-like phrases excerpted from various sources are incorporated into the composition; unpunctuated and restructured into a grid, evenly distributed across the surface against a dance of color and gesture. These works are joined by pieces from the Drip and Pour series, distinguished by the high-risk process of their making. The artist pours paint directly onto the canvas, letting it dry for at least 24 hours, and repeating, responding in dramatic swathes of color.
Taken together, Braddock's works embody 3 different generative modes, unified in one spirit of creation. The artist draws a connection to the Hindu belief that this creative spirit is feminine in nature—balanced with the male Shiva, the embodiment of consciousness. Color, gesture, and text emerge as pure expression, combining to form a gestalt surface which ripples and vibrates over implied yet unknowable depths. 3 Rivers is an acknowledgement of these flows of creative energy, like and unlike, all bound together in a cyclic journey.