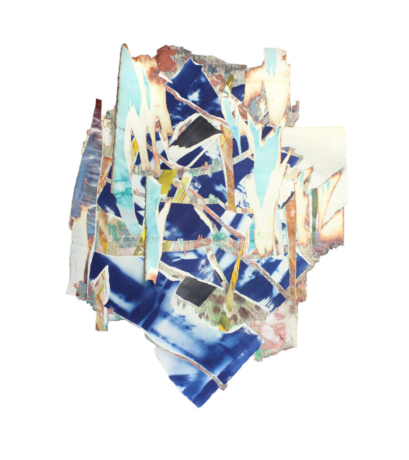 Exhibitions
INWARDS, WITHOUT WORDS
Astri Snodgrass
COOP Gallery is pleased to present "Inwards, Without Words," by Astri Snodgrass. Through works that bridge painting, drawing, and photography, Snodgrass responds to the role digital technologies play in displacing the importance of the body for that of the mind.
Through a highly physical process, Snodgrass creates collages that reverse figure and ground, creating a shallow picture plane akin to that of a screen. If we navigate virtual space in light of our spatial experience in the real world, then our mental maps of the digital also affect how we comprehend painted space.
Snodgrass approaches her practice from the perspective of a painter, although her work spans painting, drawing, photography, and video projection. Informed by her interest in light's ability to transform and color one's experience of space, she approaches her practice as if learning a foreign language, driven by a desire for dialogue with her process and materials.
This will be Snodgrass' first exhibition in Nashville, and the artist will be present at the opening reception and at COOP's NADB event on Friday, May 6th.
More about the Artist
Astri Snodgrass is a visual artist and educator who lives and works in St. Charles, IL. Experiences in Norway and Argentina helped shape her interests in language, light, and perception. Snodgrass earned her BA in Art and Spanish from Luther College and her MFA in Studio Art from the University of Alabama. She has taught at the University of Alabama, Luther College, and currently at Richard J. Daley College in Chicago, IL. In July, Snodgrass will produce a new body of work as Artist-in-Residence at Studios Midwest in Galesburg, IL.
More about COOP
COOP is a curatorial collective made up of artists, curators, thinkers and professors who are committed to expanding Nashville's dialogue with contemporary art by presenting challenging new or under-represented artists/artworks to our community. COOP is committed to exhibiting art of diverse media and content, with a goal to provide an alternative venue for artists free from the constraints of the retail market. COOP seeks to initiate a discourse between Nashville and art scenes across the country by inviting artists to show, develop projects and interact with the Nashville community.