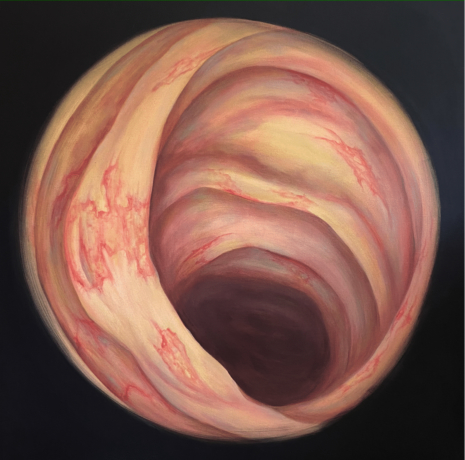 Exhibitions
ELLIE DENT + ELIZABETH WINNEL: INSIDE OUT
Ellie Dent, Elizabeth Winnel
This exhibit takes up the question of the meaning of vulnerability in a feminist context and its implications. The concept of vulnerability is often problematic to feminist theory because it is associated with an outdated system that would see women as more weak and fragile than men, dependent and susceptible to harm.
Elizabeth Winnel's response to these implications was to question male vulnerability and the role of masculine or male presenting imagery as she has previously done in other series, such as her Bouquet of Orchids.
In this series, she continues to explore how colors, symbols, and facial expressions have implied gendered stereotypes. Whether it is through color palettes, gestures, or symbols such as body hair or makeup, she questions where our biases in representational images lie and hopes to prompt the viewer to reconsider their relationship with a gendered lexicon of cultural motifs.
Ellie Dent is specifically interested in the topic of vulnerability when discussing the experience of being a patient. Visiting the doctor is a fairly universal experience and is often times met with the discomfort of exposure, confession and embarrassment. Presenting your body for a near-stranger to examine prompts feelings of vulnerability, as you are allowing a professional to view your body in ways you have never let anyone else see. Dent sees the interior of the body as mysterious. She feels that medical personnel have a privileged view of the inside the body, with the use of simple medical devices or during surgical procedures, and they are able to view our most private of organs. Sometimes we receive photographs, but we'll never be able to see our interior organs with our own eyes. Being a patient requires vulnerability to reveal the most shameful aspects of our bodies: the uncontrollable pain, leaks, mysteries and emotions. Ellie is particularly interested in the vulnerability of being a woman examined by a doctor. Women's bodies require a different kind of medical maintenance, oftentimes a heightened experience of unexplainable interior mysteries sometimes prompt questions about the sensitive topic of fertility and motherhood.
This exhibit will be on view at the gallery from May 8th through May 29th. Opening reception will be during normal hours (11-6) on May 8th. Please be considerate of our neighbors and staff by wearing a mask if you plan to attend.