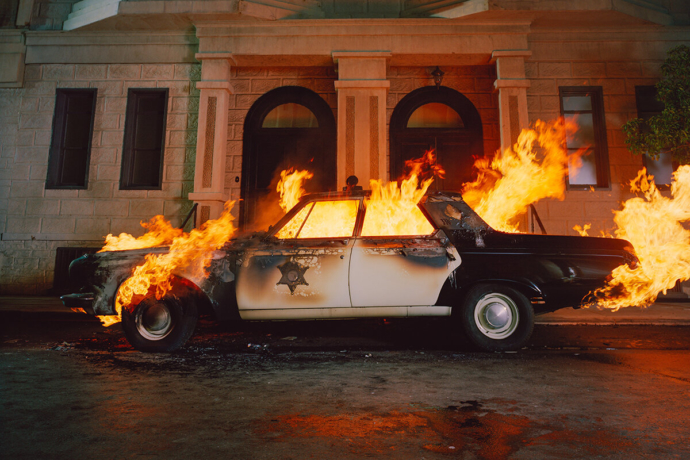 Exhibitions
TYLER SHIELDS: INDULGENT
Tyler Shields
Tinney Contemporary, in collaboration with The Collection at Bobby Hotel, is proud to present Indulgent, a new exhibition featuring works of renowned photographer Tyler Shields.
Tyler Shields creates lush, brilliantly imagined, often-erotic images that easily traverse a hypersaturated media landscape. While his photographs share a common visual-syntax with the world of fashion and luxury advertising, there's an intensity to the work that creates dissonance–the images are crisp and controlled, but there's an explicit edge, a sense of acceleration, cathartic release, spontaneous-combustion.
The artist's partner and key collaborator, Allie Evans, appears frequently as the female protagonist in Shields' works. The photographs themselves vary in content from luxury drugs and sexually charged gestures to a $15,000 Louis Vuitton chest engulfed in flame. The artifice inherent in the images' varied constructions–highly staged moments, often framed against the negative space of a studio backdrop–lends the exhibition an abstract dreaminess. Rather than generating desire towards some external commodity or lifestyle (as with advertising), each image is an articulation of desire itself.
Shields' work is a revitalization of Warhol's insistence that "everybody must have a fantasy." The exhibition is an invitation: Shields has gone beyond mere imagination, adeptly conjuring his own fantasies, rendering daydreams in pristine photographic prints, and enticing the viewer to indulge.
He has perfected the art of making anyone and everyone feel comfortable in front of the lens and understood by the images he captures. Now well into his career Shields still has a never ending list of images stored in his mind just waiting to be captured and he plans to do just that for the rest of his life.
-Allie Evans
Tyler Shields is celebrated as one of the world's most well-known fine art photographers and is represented by galleries spanning the globe. He grew up in Jacksonville, Florida, where he developed a passion for in-line skating. He eventually competed in the X-Games and won the world championship. In his twenties, Tyler began to direct music videos and inadvertently came to fame again (this time as a photographer) after posting an image of an emptied-out closet of an unfaithful ex-girlfriend on the now-defunct social media website, Myspace. Shortly after starting his photography career, Shields became the youngest living artist to be featured in auction at Sotheby's, who dubbed him "the Andy Warhol of his generation," stating that "Shields has produced images that play with notions of the gaze, power structures, hyper-realism, iconoclastic-tendencies, and cinematographic practice." Shields lives and works in Los Angeles, California.