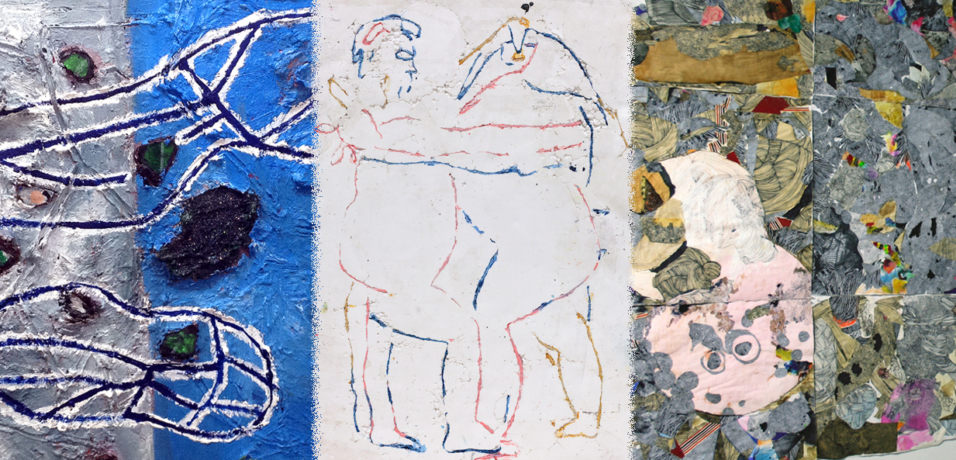 Exhibitions
I'LL BE YOUR MIRROR: YEVGENIYA BARAS, ERIN LEE JONES & NICKOLA POTTINGER
Yevgeniya Baras, Erin Lee Jones, Nickola Pottinger
mild climate is proud to announce I'll Be Your Mirror, a trio exhibition that brings together the work of Yevgeniya Baras, Erin Lee Jones and Nickola Pottinger.
---
Yevgeniya Baras, Erin Lee Jones, and Nickola Pottinger collectively evoke the sensation of entering a mental jungle full of lush imagery, unexpected textures, and surprising color relationships. By bringing together the mapping of wildly organic forms, a sense of mysterious humor, and an ethereally nebulous approach to collage, these three artists create a tri-force of energy: a transcendent sense of knowledge and language that seeks to delve into realms of beautiful unknowing.

Baras is a painter that explores a variety of terrains such as loose burlap, the backside of canvases, and pieced-together textiles. On top of these varied surfaces are compositions that have very keen and subtle relationships of boundary, beckonings toward literary language, and paint that pays homage to drawing. Life is lived on each canvas, but it is not always such a straightforward life with an obvious meaning or conclusion. The paintings live on the surfaces no matter what they may be- they have brilliant colors even though grays and browns and tears and rips surround, and they invent language when words seem to fail. They demonstrate a way to navigate the unknown with intimate knowledge and earthly magic.
Blending processes such as plaster pouring, material fragment collage, and ink drawing, Jones makes wall works that are physically heavy, yet light with an aura of comedy that beckons simultaneously towards cave-drawings and newspaper cartoons. These works use figurative elements such as beefy legs under a straw skirt, big puppy-dog eyes, and intertwining bodies paired with a consistently experimental approach to forms of collage and mark-making. Using fabric, bits of glass, photographs, and casted fragments from other processes, Jones opens a space of possibility with ideas of archetypes and humor; sexuality and identity; and ideas of timelessness, going into the deep past to make images about the present moment.
Pottinger compiles drawings of dense and detailed patterns, relief prints, scraps of paintings, photographs, and many other materials to construct large nebulaic forms. Though defined by outer edges, the collages are modular and have the potential to bend with corners or climb up to the ceiling, like a large mass of vines. When seen from a distance they appear as clouds of texture and pattern, with patches of color among mostly black-and-white. Upon closer viewing a quilt of collaged organisms is revealed, intertwined with meticulous ink drawings of hair or rope-like marks. Pottinger's works feel like macro and microcosms of her studio-world, as well as the organic world. Within these large forms are the intricacies of a living thing, elements of diverse approaches and interests all living together within a cloud-form that has hard boundaries yet seemingly endless inclusivity.
---
Yevgeniya Baras is an artist living and working in Brooklyn, NY. Yevgeniya has a BA and MS from the University of Pennsylvania (2003) and an MFA in Painting and Drawing from the School of the Art Institute of Chicago (2007). Yevgeniya has exhibited her work in several New York City galleries and internationally. She is represented by Nicelle Beauchene Gallery. Yevgeniya was a recipient of the Pollock-Krasner grant and the Yaddo Residency in 2017. She received the Artadia Prize and was selected for the Sharpe-Walentas Studio Program and the MacDowell Colony residency in 2015. In 2014 she was named the recipient of the Rema Hort Mann Foundation's Emerging Artist Prize. Her work has been reviewed in the New York Times and Art in America. Yevgeniya's next solo exhibition is at The Landing Gallery in LA opening in January, 2018.
Seven and a half years ago Yevgeniya co-founded Regina Rex Gallery in Bushwick, NY. The gallery has moved from Bushwick to Lower East side in the Fall of 2014. Yevgeniya has curated and co-curated over twenty exhibitions at Regina Rex and other galleries in NY, Chicago, and Philadelphia.
Erin Lee Jones is originally from Jacksonville Beach, FL and currently lives and works in New York, NY. She earned her BFA in 2001 from the University of North Florida and an MFA in 2006 from the University of Wisconsin-Madison. Her work has been included in numerous group exhibitions including; Safe Gallery, Brooklyn, NY; Regina Rex, New York, NY; Songs for Presidents, Ridgewood, NY; and Alleyoop Projects, New York, NY.
Nickola Pottinger was born in Jamaica and currently lives and works in Brooklyn, NY. She received her BFA from Cooper Union in 2008. She has won the Michael S. Vivo Memorial Prize in 2008 and has shown in various group exhibitions in NYC including The Greenpoint Gallery, 440 Gallery and Ortega y Gasset Projects as well as Ferro Strouse Gallery in Miami FL.
---
Curated by David Onri Anderson in collaboration with Yevgeniya Baras