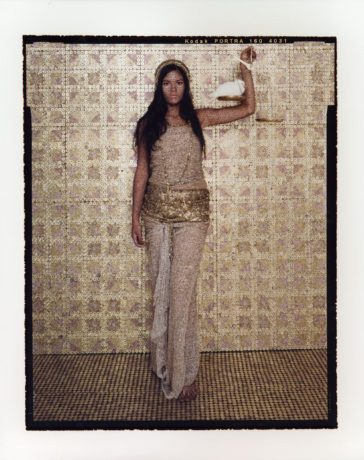 Exhibitions
I AM: MIDDLE EASTERN WOMEN ARTISTS AND THE QUEST TO BUILD PEACE
Marwa Adel
Rawan Al Adwan
Afsoon
Ahaad Alamoudi
Alia Ali
Boushra Almutawakel
Zena Assi
Shereen Audi
Manal Deeb
Maitha Demithan
Lalla Essaydi
Mariam Ali Fakhro
Taiba Faraj
Faten Gaddes
Azadeh Ghotbi
Nermine Hammam
Carelle Homsy
Lulwa Al Khalifa
Marwa Al Khalifa
Nabeela Al Khayer
Ghada Khunji
Annie Kurkdjian
Hanaa Malallah
Rania Matar
Raeda Saadeh
Nagla Samir
Soheila Sokhanvari
Mayasa Al Sowaidi
Wijdan
Helen Zughaib
Guest curated by Janet Rady, a specialist in Middle Eastern contemporary art, I AM features the work of thirty-one premier Middle Eastern women artists from twelve countries, visually celebrating the rich, diverse, and pivotal contributions that women make to the enduring global quest for harmony and peace. The exhibition premiered at the National Gallery of Fine Arts in Amman, Jordan, in May/June 2017. It was then showcased at St. Martin-in-the-Fields on Trafalgar Square in London, U.K., for July/August 2017, and premiered its U.S. tour in Washington, D.C., at the Katzen Arts Center of the American University Museum in September/October 2017. The Vanderbilt presentation will be one of six in North America.
I AM is organized by CARAVAN, a nonprofit organization that promotes dialogue, understanding, and friendship between the West and the Middle East through the belief that the arts have the potential to unite and act as a universal language. The founding president of the organization, Rev. Paul-Gordon Chandler, says of their mission that "In the midst of the increasing chasm of misunderstanding that exists between the Middle East and West, the arts can be one of the most effective mediums to provide new pathways of understanding which transcend borders, helping us put ourselves in 'the other's' shoes."
I AM: Middle Eastern Women Artists and the Quest to Build Peace is brought to the Vanderbilt University Fine Arts Gallery with the generous support of the Office of the Chancellor.