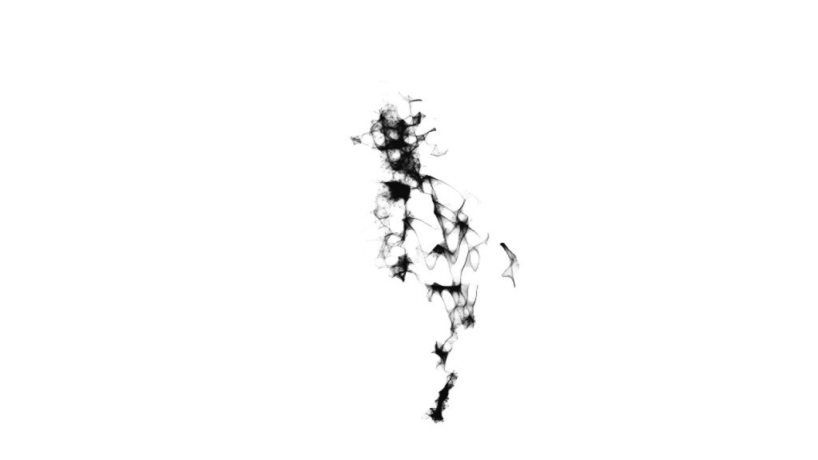 Exhibitions
GUNCOTTON
Banning Bouldin, Greg Pond
guncotton: a mutlidisciplinary exhibition by Banning Bouldin of New Dialect and Greg Pond
Dance performances: August 4 and August 18
---
Working from the book Atlas of Novel Tectonics by Jesse Reiser and Nanako Umemoto and Johann Wolfgang von Goethe's adage "architecture is nothing but frozen music, music is nothing but liquid architecture," Greg Pond and Banning Bouldin adapt the text's concepts rooted in the deconstruction and recomposition of architectural principles to develop a new "language" for generating cross-disciplinary works of dance, video, sound, and sculpture. This is an ongoing project where recursive responses between what is produced by the dancers, sculptures, sounds, and images continue to inform the subsequent steps of the collaboration. Architectural conjecture becomes dance that become sculpture, sound, video, and images. The resultant images become sound, dance, then sculpture again and so forth. Through this process Pond and Bouldin create a new sort of discursive language that evolves as their collaborative research deepens. Columbian conductor and musician Cesar Léal and vocalist Jessica Usherwood have contributed to the sound installations for this work.

Applying improvisational dance techniques to concepts of architecture, Pond and Bouldin explore how rule games develop sculpture through motion. Dancers identify and project anatomical and geometric limits according to rules we generate. Each time a dancer finds such a limit, the colloborative begins the process of incrementally unfolding their movements to find the parent shape or form that is recorded and interpolated to become an object, sound, or image to create continuously unfolding sets of dances or objects by investigating intensive properties of matter and the physical abilities of the body, each seeking a new sort of geometry to become.

The initial dance research investigates the impact of intensive and extensive properties of matter, coherence, and incoherence on the human body through improvisational tasks. These tasks are both sensation based, illustrating qualitative states such as density, sharpness, softness, translucence, etc, and form driven, exploring changes in scale, fragmentation, collapsing points in the body, unfolding to extrude lines and curves, etc. Bouldin applies these modalities to individuals and groups of dancers. Pond then 3D scans the dancers to generate sculptures, drawings, and sound that illustrate both the dancers' physical histories and the impact of the prompts on the multiple disciplines of our project using computer code Pond and computer programmers Marianne Sanders and Charles Stehno write to reinterpret the dancers' movement into other art forms.

Guncotton (nitrocellulose) is the accidental result of blending very different substances that produce an explosive material for Christian Friedrich Schönbein in 1846 and also important in George Eastman's later development of film photography.

Metaphysics of Process

In his introductory essay to Atlas of Novel Tectonics, The Judo of Cold Combustion, Sanford Kwinter describes the process of the finding "the unfolding geometry that previously was either held in exquisite or frozen suspense or was subject to the instantaneous and uncontrolled unfolding that we know as explosion". By finding this middle ground "… a rhythm of unfolding that delivers the geometries of matter to the senses in the form of properties, qualities, or affects in real time, endows the world with novelty……it is best not to bury novelty too deeply in the murky mysticism of "invention" but to raise it affirmatively as a product of a spontaneous - or deliberate – migration….migration of what current philosophical parlance calls the diagram… an invisible matrix, a set of instructions, that underlies… and organizes- the expression of features in any construct."

This project generates live performances, printed images and a book, videos from the 3D motion capture drawing computer program, and sculptural and sound installations. Text from our discussions of this work are transcribed, generating a log of the entire collaborative process. The images submitted illustrate the process.
---
Greg Pond is a graduate of the University of the South and earned his MFA from the University of Georgia. He is currently on faculty at the University of the South and has been awarded Tennessee State Individual Artist grant, is a recent Kennedy Fellow at the University of the South, and has been an artist in residence at the F+F School of Art in Zurich and the Burren College of Art in Ireland. Greg also works as an independent writer, curator, and lecturer with recent projects and events hosted by the Egyptian Ministry of Culture, Fivemyles Gallery in Brooklyn, Delta Axis in Memphis, the Frist and Cheekwood Museums of Art in Nashville.

New Dialect is a nonprofit contemporary dance collective and training program based in Nashville. Their mission is "to advance the evolution of our art form by inspiring people of all social backgrounds, cultures, and generations with authentic, high-quality dance workshops and performances that connect us more deeply to ourselves and each other. To this end, we strive to be a resource for choreographers, dancers, and teaching artists in need of a fertile and supportive environment in which to deepen their own movement research." Designed to be a research lab, New Dialect aims to facilitate an environment where movers of all kinds can explore the wide variety of groundbreaking movement vocabularies that exist in the world of contemporary dance.

Having greatly benefited from her training at Juilliard, founder and artistic director Banning Bouldin now endeavors to foster a fertile and supportive environment, where people are given "tools not rules" that allow them to connect deeply with their bodies as they learn how to interpret a broad range of choreographic languages with skill and authenticity.