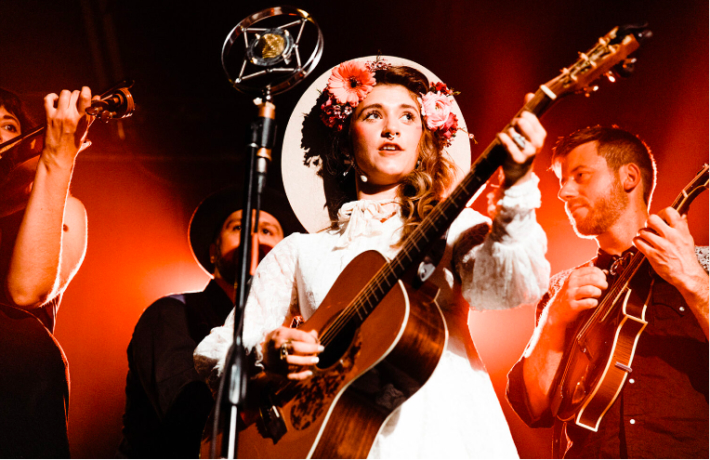 Exhibitions
GUITAR TOWN: PICTURING PERFORMANCE TODAY
Angelina Castillo, Lance Conzett, Steven Cross, Emma Delevante, H.N. James, John Jo, Laura E. Partain, John Partipilo, Jenni Starr, Diana Lee Zadlo
Guitar Town: Picturing Performance Today features work by ten Nashville-based photographers who capture the energy of Nashville's diverse music scene through images of guitar players performing in venues across the city. Highlighting a variety of musical styles and attitudes, the photographers employ dramatic angles, surprising cropping, and hair-trigger responses as they capture decisive moments in each performance.
The photographers in the exhibition are Angelina Castillo, Lance Conzett, Steven Cross, Emma Delevante, H.N. James, John Jo, Laura E. Partain, John Partipilo, Jenni Starr, and Diana Lee Zadlo. Through images of musicians including Brandi Carlile, Sierra Ferrell, Brittany Howard, Marty Stuart, William Tyler, Adia Victoria, Jack White, and Yola, viewers see how the performers' self-presentation—clothing, hair, stance, and facial expressions—provide visual links to the music they are making and bring viewers into the room with the audience to share the visceral experience.
This sense of immediacy is particularly acute in photographs from intimate venues like DRKMTTR, Exit/In, Fond Object, and Mercy Lounge, some of which have closed or changed to new management in recent years, unable to survive Nashville's rapidly changing real estate environment. Such losses have raised questions about the city's capacity to remain a haven for small clubs and independent musicians. Despite this, the photographers in this exhibition celebrate a community of musicians that continues to be dynamic, mutually supportive, and ever adaptable. Nashville—Guitar Town—is still the place where music of all types can be heard and enjoyed. The exhibition will be presented in conjunction with Storied Strings: The Guitar in American Art, on view in the Ingram Gallery from May 26–August 13, 2023.
Guitar Town: Picturing Performance Today was organized by Frist Art Museum Chief Curator Mark Scala and Curatorial Intern Sydney Stewart.