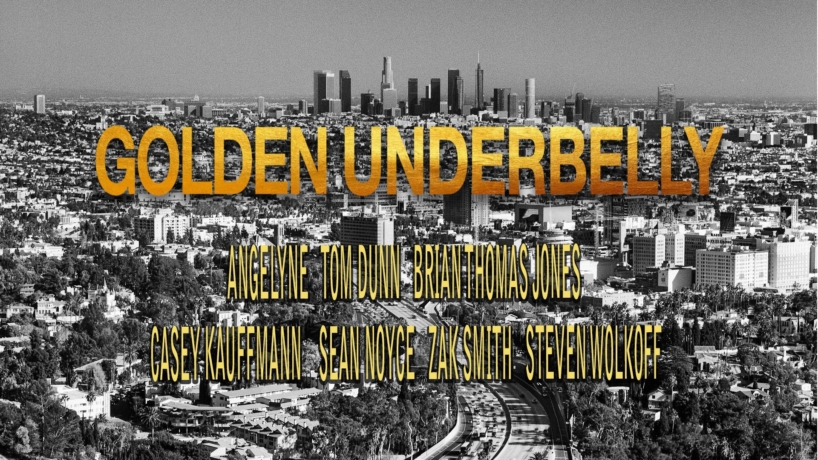 Exhibitions
​GOLDEN UNDERBELLY
Brian Thomas Jones, Angelyne, Casey Kauffmann, Zak Smith, Tom Dunn,
Join us this Saturday for our third annual summer series of exhibitions entitled House Guests. During the months of July and August, COOP invites different curators to take over our space. For the month of August we've handed over the reins to Los Angeles gallery Durden and Ray.
---
GOLDEN UNDERBELLY: A Durden and Ray exhibition at COOP Gallery
Curated by Steven Wolkoff and Tom Dunn

Golden Underbelly explores the demimondes existing under the glitter of Hollywood. It's a world whose fame seeking, sex craving inhabitants pursue meaning, pleasure, and/or redemption in alternative spirituality, reinvention, self-improvement, and self-medication.

From a distance, Brian Thomas Jones' Gilded Tombs Do Worms Enfold presents the city under a hill, a golden city of dreams that closer inspection reveals is precariously constructed from cheap glitter and paint. Angelyne, famous for her eponymous billboard campaign in the 1980s and 90s contributes a triple self portrait perpetuating her own iconography. Angelyne reinvented herself in Hollywood and her image is synonymous with the city. While Angelyne pioneered the use of billboards as an artistic medium, Casey Kauffmann, working as @uncannysfvalley, uses her iphone and instagram. However, rather than focusing on her own image, Kauffmann's iphone collages explore the lives of all those following after LA's billboard queen. But not all of these lives have happy endings.

Zak Smith's Every Hospital in Los Angeles Has a Basement explores the darker side of life in a city almost as famous for its cults and serial killers as its movie stars. Tom Dunn's Polanski's Baby blurs the lines between fiction and reality by exploring the real life tragedies of filmmaker Roman Polanski, whose wife Sharon Tate was a victim of the infamous Manson murders. Steven Wolkoff's 21 grams (cocaine) references both the controversial experiment from 1907 that tried to determine the physical weight of the human soul, and the drug induced soullessness the pervades much of this demimonde. Sean Noyce's new media series The Medium 3.1 and 3.2 also addresses LA's lost souls, using digital code as magik spells to conjure the spirit of a bust that was taken from its home in Italy and placed on display at the Getty Villa in Malibu.
---
Durden and Ray

Founded in 2009, Durden and Ray is comprised of 24 artist/curators who work together to create exhibition opportunities at their downtown Los Angeles gallery as well as in concert with artist groups and gallery spaces around the world. Durden and Ray concentrates on small, tightly curated group shows at the gallery, organized by the members, and hosts international artists as part of a commitment to global exchange and alternative networks. The Durden and Ray model expressly overlaps multiple strategies, including the commercial potential and visual identity of a gallery, the democratic structure of an artist group, the potential to create collaborative works of art in the manner of a collective, and the shared fiscal support of its programs by group members and project partners similar to a nonprofit organization. Durden and Ray is committed both to individual praxis and to shared aims of curatorial experimentation, visual research, and artistic exchange with international partners.
---