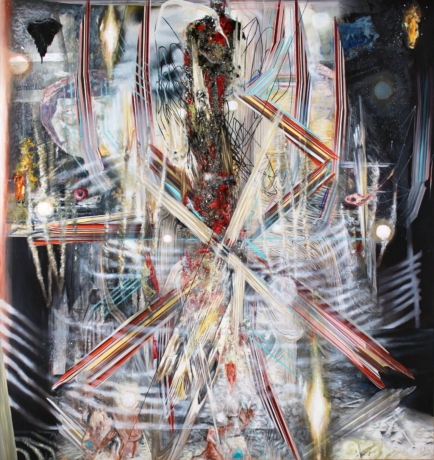 Exhibitions
JAMES PERRIN: FRAGMENTATIONS OF ENDEARMENT
James Perrin
Tinney Contemporary is pleased to present Fragmentations of Endearment, a solo exhibition of new paintings by represented artist, James Perrin. Perrin's work is recognized for its meticulously dynamic and active abstractions. The myriad of colors and textures within his expansive compositions often leave a chaotic first impression. However, with deeper investigation the paintings reveal a thoughtful and intentional structure that scaffolds the surface activity.
Perrin's work portrays layered imagery informed by specific sources including landscapes, fashion design, medical documentation photography, and classical paintings. Through methods of collage and digital manipulation, Perrin transforms this source material into detailed amalgamations, which serve as a starting point. These fragments bridge Perrin's thoughts on entropy and regeneration. Additionally, they promote his interest in, what he calls, emotive interconnectedness. Perrin draws inspiration from visual records of personal experiences and memories. They engage him in the instinctual, energetic, and visceral action of painting. In these new works, Perrin successfully negotiates a complex dialogue between the precise and the frenetic.
"As I worked on the last paintings for this show," Perrin recalls, "I came to accept what I was painting were fragments of my life layered on top of one another, forming their existence as physical objects created in paint." Ultimately the collection of work inspires a feeling of awe and wonder. The palpable paintings elicit an emotional response that settles in the blurred delineations between fear, beauty, and curiosity.
The exhibition includes oil paintings accompanied by bespoke lighting installations. The lighting, which Perrin also uses to develop the paintings in his studio, illuminates the work from the flanks with scientifically accurate temperature calculations and color rendering index adjustments. Perrin's customized lighting heightens the viewer's experience of the colors in his paintings by offering an environment that enhances what the human eye naturally sees.
The opening reception for Fragmentations of Endearment will take place on June 5th, from 2 pm to 8 pm. The exhibition will be on view through July 17th, 2021. This show marks Perrin's third solo exhibition with Tinney Contemporary.
At this time, Tinney Contemporary is still requiring masks to be worn during the entirety of the visit. Find more information at http://www.tinneycontempoary.c... including announcements of additional programming.