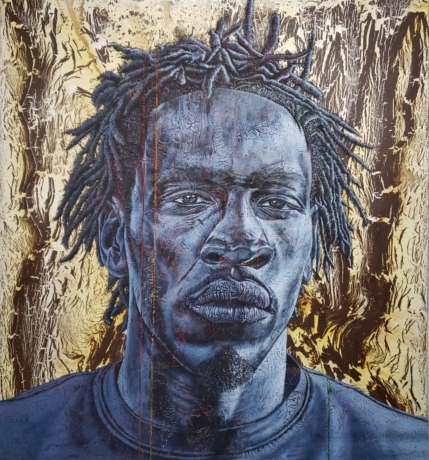 Exhibitions
ALFRED CONTEH: FRAGILE FIGURES — BEINGS AND TIME
Alfred Conteh
AS A RESULT OF CLOSURES DUE TO COVID-19, PLEASE FOLLOW GALLERY WEBSITE AND SOCIAL MEDIA PLATFORMS FOR SCHEDULING UPDATES AND VIRTUAL EXHIBITION CONTENT.
---
The artists featured in Fragile Figures: Beings and Time illuminate the range and complexity of human emotions, revealing intersections between vulnerability and power - social, cultural, and political - in contemporary portraiture. Individual and group identity, and the forces that shape how we see self and other, are approached through direct references to noted works from art history, connecting past events to current issues.

About the Artist:
Alfred Conteh's work is an ongoing visual representation of how African diasporic societies are fighting social, economic, educational, and psychological conflict both internally and externally. Conteh received his BFA in Fine Art from Hampton University and his MFA in Fine Art from Georgia Southern University, and currently lives in Atlanta.
Tours:
Date-Night Tours are only offered every Thursday night, except for the following dates: 10/31, 11/28, 12/26. Make a dinner reservation at Gray & Dudley for 6:30pm, and join us in the lobby at 5:30pm to explore with a guided tour. Tour guests will receive a Free Dessert voucher (with the purchase of two entrees) at the end of the tour.

Join us for the Tipsy Tour! Grab a discounted drink from the Tipsy Tour Menu (available Tuesdays from 6pm-7pm for tour guests only) at the bar in Gray & Dudley and join us in the lobby at 7pm to explore with a guided tour. Menu includes: $6 cocktails, $7 craft beers, $8 wines by the glass. This is a recurring event offered every Tuesday except for the following dates: 11/26, 12/24, 12/31