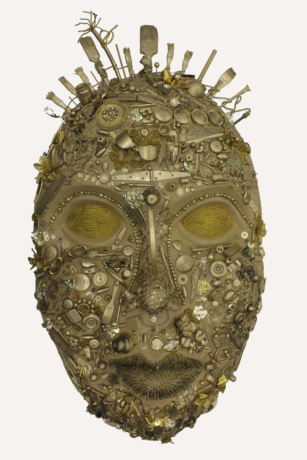 Exhibitions
FOUND NARRATIVES
Participants from Maplewood High School
Poverty & the Arts
Thistle Farms
YMCA Latino Achievers
Found Narratives showcases individual and collaborative works made by participants from four community organizations under the guidance of four teaching artists. Participants from Maplewood High School, Poverty & the Arts, Thistle Farms, and YMCA Latino Achievers spent nearly two months working with teaching artists to create individual and collaborative three-dimensional and relief-based artworks that incorporate discarded and repurposed objects.
The works were made in response to Shinique Smith's exhibition Wonder and Rainbows, which was on view in the Gordon Contemporary Artists Project Gallery at the Frist Center from October 9, 2015, through January 10, 2016. The artists were inspired by Smith's interest in how everyday objects can evoke memories, be changed into something valuable, and reflect our experiences. Each organization also made a larger collaborative piece, showcasing how personal narratives can come together to create a collective identity through shared human experiences.
Found Narratives was organized by the Frist Center for the Visual Arts.
Image credits:
Participants from Maplewood High School, led by Stephanie Pruitt. Untitled, 2015. Mixed media
Fresia Garcia. Happiness, 2015. Mixed media
Participants from YMCA Latino Achievers, led by Amber Lelli. Be happy in this moment. For, this moment is your life, 2015. Mixed media