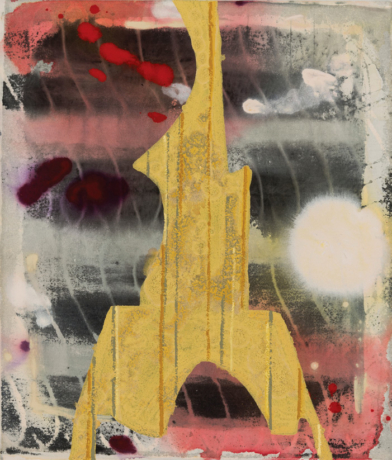 Exhibitions
FAMILY TIES
Dan Gualdoni
Angelina Gualdoni
Tom Judd
Kiki Gaffney
This exhibition delves into the exchange of artistic influence within familial relationships. Father-daughter pair Angelina and Dan Gualdoni showcase their recent individual explorations, while husband and wife duo Tom Judd and Kiki Gaffney reveal new paintings and collage work. Visual and conceptual relationships within the work may be subtle, inviting viewers to carefully consider abstracted forms, mark-making, as well as juxtapositions of natural and interior patterns and palettes.
Painter, printmaker, and former professor Dan Gualdoni presents a new series of work: "The collages included in this exhibition at Cumberland Gallery mark a departure from the last fifteen years of image making." Dan's widely known Coastal Redux paintings involve an atypical process of layering and smearing glue with oil paint and pigments resulting each time in unique, nostalgic, and photographic images of seascapes. However, the artist is now channeling his connection with natural elements into printmaking techniques and materials involving paper scraps from previous color testing, glue, acetate, lithographic ink, and paint; these he incorporates into a meticulous multi-step process. Hailing from St. Louis, Dan Gualdoni received his BFA in painting from Washington University (WU) and his MFA in painting at Otis Art Institute in Los Angeles, California. He taught for many years at several distinguished Universities in Missouri, including Washington University where he cofounded the WU Printmaking Workshop. Dan has exhibited across the United States, as well as Ireland and Austria throughout his 40+ year career.
Brooklyn based painter Angelina Gualdoni was born in San Francisco and received her MFA in painting from Maryland Institute School of Art (MICA) in 2000. For years Angelina has developed a method of abstract work that alludes to stain and pour painting traditions of Frankenthaler and Louis, among other influences, while contemplating urban and interior structures that make up today's world. In her recent statement, she reflects upon a DIY mentality that many artists find themselves embracing as boundaries of work, home-life, creativity, and ambition are blurred. Within her abstract paintings, her allusions to city planning, architecture, and domestic life evidence thoughtful and varied mark-making and environment-specific colors. Angelina received the Pollock-Krasner Grant in 2007 and has taught at prominent schools such as Oxbow, Northwestern University, and Columbia College. Residencies include Skowhegan, ICSP and McDowell Colony. Notable solo show locations include The Museum of Contemporary Art in Chicago and St. Louis Museum of Art. In 2010 Angelina cofounded Regina Rex, a Brooklyn based artist-run initiative and project space, and currently teaches full time at the School of the Museum of Fine Arts in Boston, while continuing to produce paintings.
Philadelphia based painter and collage artist Tom Judd exhibits a new series of works on paper. Motivated by the exploration of visual memory, Tom initiates the process of experiencing a past reality through the creation and viewing of art. By layering digital enlargements of old photographs, encyclopedia excerpts, found documents and painted objects, he evokes an overlooked collection of memories. Alluding to the randomness of life, the artist often combines contrasting images of things and places. Frivolous interiors are layered with majestic landscapes; decorative wall paper patterns overlap austere grids and color fields. Inspired by assemblage artist Joseph Cornell who said collage=reality, Tom's imagery functions as a trigger for the mind, recalling experiences, thoughts and feelings. Tom Judd graduated with a BFA from Philadelphia College of Art in 1975. He has shown in numerous galleries and museum throughout the US including the Philadelphia Museum of Art and the Pennsylvania Academy of Fine Arts, where his work has been included in the permanent collections. Tom received the Pollock - Krasner Grant in 2000 and has shown at Cumberland Gallery for over 15 years.
Guest artist and wife of Tom Judd, Kiki Gaffney will present her intricate mixed media work at Cumberland Gallery for the first time. Kiki received her MFA in painting from the University of Arts in Philadelphia in 1999 and has exhibited nationally for 20 years. In her work, Kiki explores the beauty of complex natural systems in the world around us. She states, "I am drawn to the symmetry and sequence within these designs because, in some way, they reflect the stability we look for in our lives." Combining fractal repetition and order with sporadic shapes and irregular patterns she draws upon the systematic chaos of flora. Panel diptychs allow the viewer a chance to zoom in on details of pattern arrangements side-by-side with the greater composition. Often her color palette evokes interior settings and materials such as wall paper patterns and architectural edges and angles. Primarily wielding acrylic, ink, graphite, and collage materials, Gaffney achieves a delicate linework, flat colors, and rounded organic forms that together explore the coexistence of the natural and man-made.