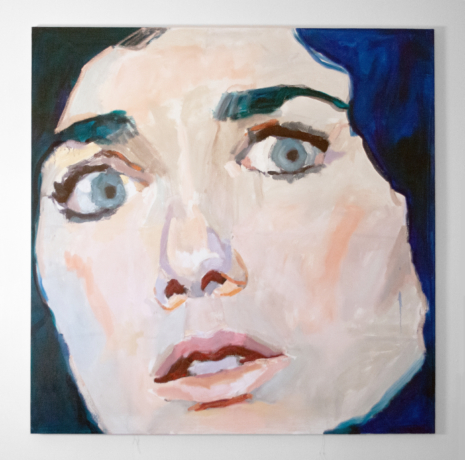 Exhibitions
MORGAN OGILVIE: FALSE FLAGS
Morgan Ogilvie
My work uses oil paint on expansive canvases to examine sinister social forces as seen through the prism of fictional and historical "unreliable" female protagonists. These anti-heroines—such as Martha Mitchell, (wife of Nixon's attorney general), who was slandered as a quintessential unreliable narrator, Rosemary, from the Faustian-film Rosemary's Baby, and Typhoid Mary—tend to agitate questions of accurate reality testing and delusion.
Utilizing unexpected scale, claustrophobic cropping, and obsessive repetition, I create a suggestion of danger that takes place beyond the border of the painting--inviting the viewer to question what they think they know about these figures.
In this body of work, I have appropriated images from an episode of the Columbo, "Dead Weight." The main character's plight echoes Martha Mitchell's. She may have witnessed a crime, yet others are capitalizing on her self-doubt. In this case, we surveil our portrait-sitter as she searches for elusive truth, while she too looks at us searchingly. Ultimately, we do not know what happened, but intuit that our subject finds herself in a twilight where distinctions between fact and fiction have forever faded.