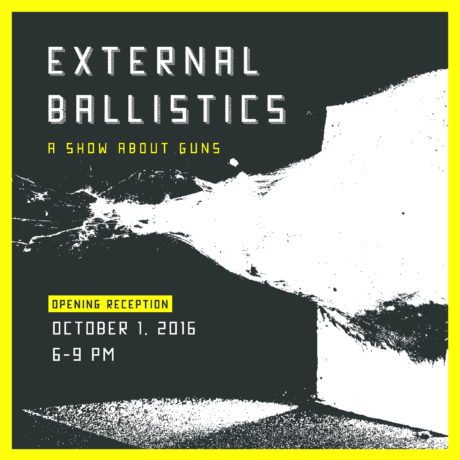 Exhibitions
EXTERNAL BALLISTICS
Alex Lockwood • Alex Warble • Brett Douglas Hunter • Devin Goebel • J. Elizabeth Williams • Jeff Stamper • Jodi Hays • doughjoe • Josh Elrod • Julia Martin • Merrilee Challiss • Megan Kimber • Michael McBride • Noah Saterstrom • Olivia Hill • Rob Matthews • Sam Dunson • Seth Prestwood • Trevor Mikula • Will Morgan Holland
The weekend following July 4th we arrived at the gallery to find a stray bullet had pierced through three walls of the most highly trafficked part of our space, head height of any average sized human being. Discovered on the same morning that more news of violence came out of Dallas, we decided it was time to act. We invited a group of 20 local and regional artists to make a work of art centered around guns and gun violence. The response has been incredible.
We would like to thank Nashville Arts Magazine for their support and sponsorship in the upcoming October issue. And the Nashville Scene for highlighting us in the 2016 Fall Guide.

A large portion of the proceeds from this show will go to assisting families and victims of gun violence.
There will also be a number of discussions over the course of the month.