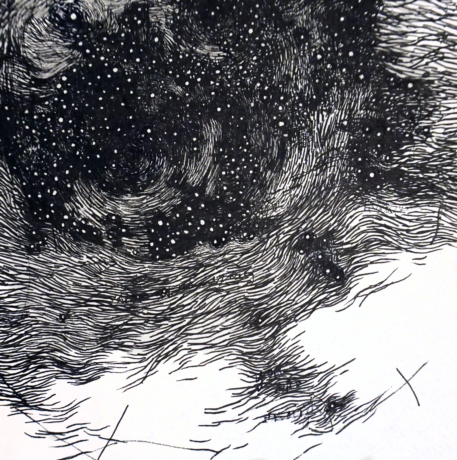 Exhibitions
ERIN MURPHY: PORTALS, BOUNDARIES, AND INFINITE SPACES
Erin Murphy
About the exhibit:
My work is about space. It is an invented world with its own pervasive atmosphere that sits somewhere between abstraction and landscape. I like to think of this work as a series of portals into my own brand of science fiction; exploring atmosphere, spatial relationships, and surface as characters in themselves.
About the artist:
Erin Murphy believed her childhood love of drawing buildings meant she was destined for a career in Architecture. Fortunately, a pre-college program at the Rhode Island School of Design convinced her that measuring anything to the thirty-second of an inch went far beyond her personal ambitions. However, the program introduced her to the idea that she could explore drawing and space on her own terms. After studying at Pensacola State College, and Central Saint Martin's in London, she received a BFA in painting from the Maryland Institute College of Art in 2012. Murphy interned with the sculpture park and artists' residency program Salem Art Works in Upstate New York, where she returned as a Winter Fellow in 2012. She was also a resident artist at the Bijou Studio in Cape Town, South Africa and showed her work as part of Art Week Cape Town. Since moving to Nashville in 2014 Murphy has had two exhibits: Quoting Nature at Fort Houston and Brave New Worlds at Julia Martin Gallery. She is a member of the maker space Fort Houston.
IMAGE INFO:
Erin Murphy, Tide Pool (Detail), 2017, Pen and ink on Paper, 8 1/2 x 11 in.